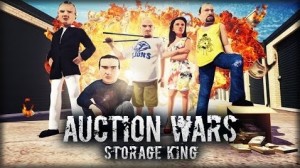 Have you ever wanted to practice auction techniques or just enjoy the thrill of the hunt without actually participating in an auction?
If so, you're not alone. There's a surprisingly large market for storage auction-related games and apps. New games are created regularly to service the niche.
One of the newest on the market is also the biggest: Storage King, an iOS game released by GameDigits LTD.
Storage King follows a format that will be familiar to any storage auction reality show fan. You play as a professional auction hunter facing off against a number of computer-generated opponents. Each player with their own characteristics and habits. You must strategize to ensure a win, but securing the highest bid offers no guarantees.
You might win rare items or a chest full of trash.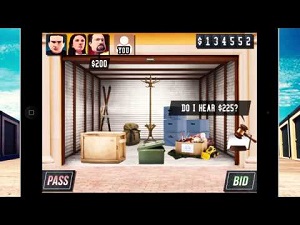 Players can collect virtual items. Make virtual profits and compete against their friends through the online leaderboards.
Storage King is the leading game of its kind, but it's hardly the first game to capitalize on the popularity of the auction-hunting reality show format.
Other popular game apps include Storage Auction, a photo-realistic bidding app that lets you browse and purchase fake storage units. As well as Auction Junktion, an auction-themed strategy game that utilizes trading card game mechanics.
In every case, the format and goal is similar – Provide an entertaining, strategy-based auction experience. Players immerse themselves in the role of a professional auction hunter.
By tapping into the treasure-seeking thrill of the reality shows, these game apps capture the imagination of an audience who might not be willing to jump into the real-world auction scene.
Of course, these games do have some benefits over the real deal. You don't have to worry about losing money on a bad locker. You don't get dirty or sore from emptying out a real storage unit. You also don't stand out in the hot sun in search of that perfect storage unit.
But without risk, there can be no reward. Collecting virtual items is a hollow sort of treasure-hunting when you could be finding real treasures instead.
If you have a bit of storage space, an eye for valuables, and a few extra dollars; why not try real storage auctions instead? They might not be as flashy as their virtual counterparts, but a game can't furnish your home with antiques or collectibles. Nor can it provide valuable items that can be resold to pad out your retirement fund.
If you're not sure you're ready, the right place to start might be online storage auctions, which should have a very familiar format for anyone who spends time on the internet.
Just like in an app, you'll view the unit, assess the value of the contents, and make a bid. Once you win, you'll have some real-world items you can keep or resell for a profit – and that's way more thrilling than any game can offer.
Please leave your insightful opinions in the comment box below.