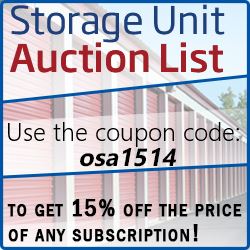 A storage auction business can't get very far if you don't know where to look for auctions. Word of mouth is helpful, but it won't lead you to the most valuable auctions – those little-known gems without much competition and with plenty of potential treasures to choose from. These honey pots are the holy grail of storage auctions, but without a lot of research it can be hard to find them.
That's where storage auction listings come into play. A storage auction listing site is an aggregate of all the storage auction information for a given area. Some work on a national scale and others are more local, but all of them work to provide auction-hunters with a list of upcoming auctions so that you can build your game plan accordingly.
Traditionally, these listing sites have been a little hit-or-miss. The problem is that a lot of the big sites just don't go in-depth enough to be of much value. They'll skim the surface, post a few of the easiest-to-find listings, and call it a day. That's what puts StorageUnitAuctionList.com ahead of the pack: It's a comprehensive listing of auctions all across the country, not just the highlights from a few areas. Nationwide, it provides listing information for more than 50,000 storage facilities, with a whopping 200,000 listings per month for all locations. And, unlike some sites, it updates daily to provide the most up-to-date information possible for its subscribers.
That's how Storage Unit Auction List became the #1 auction listing service in the country, and it's why a subscription is one of the best things you can do for the long-term health of your storage auction business.
For OSA Members: Storage Unit Auction List Coupon Code
Subscription prices for StorageUnitAuctionList.com vary depending on your zip code. In areas with more facilities and more results, you'll pay more. Subscriptions start as low as $5 a month or $50 a year and go up from there – not a bad price considering how much time you'll save using this service as opposed to tracking down all of the storage auctions in your area by hand.
But we have a special offer that will sweeten the deal. Online Storage Auctions' members who use our coupon code will receive a 15% discount on the cost of a subscription. This lets you check out all of the features without paying much upfront, and Storage Unit Auction List's subscription guarantee ensures that you'll be satisfied with the results or your money back.
This is a limited time offer, so be sure to use our coupon code right away to take advantage of this great deal.
Using the Promo Code
When you sign up for the service at StorageUnitAuctionList.com, type in coupon code "OSA1514" to receive your 15% discount or just click here and it'll be applied directly to your purchase. You can use it for either a monthly or yearly subscription model – whichever you prefer!
Other Storage Auction Resources
Of course, even the best national storage auction listing can still have some gaps in its information. If you happen to live in Texas, the biggest and best listing service for the state can be found at AuctionsTX.com. This offers the most in-depth coverage of storage auctions in five major Texas cities and their outlying areas, gleaned from local listings as well as direct listings from storage facilities themselves. You won't find a more comprehensive listing anywhere, so be sure to check it out for all of your Texas auction needs! For a free trial membership, click here.