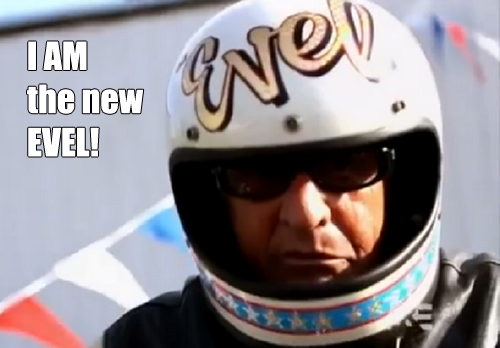 Barry'd Treasure: Season 1, Episode 8: "All About Evel."
Barry Weiss jumped over 15 buses on his motorcycle!
Wait, I'll get to that.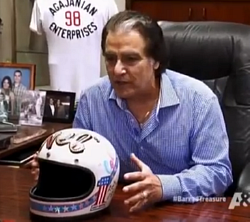 Buyer
Chris Agajanian, a friend of Barry, wanted a leather jumpsuit. Not a disco jumpsuit, mind you.
Evel Kneivel's leathers (as they call it in the racing world). Evel was only the most famous daredevil in American history.
Buyer owned Evel's helmet which was worn in 1975 on the daredevil's last jump. That event was the highest rated televised episode on the Wide World of Sports.
Helmet was signed and given to Chris by the daredevil himself. He needed, craved, yearned for the leathers. (I laid it a bit thick.)
 Shenanigans
The Collector sped off tangents during his hunt for an item. Show began with Kenny awarded a brown belt. (Who knew?) Barry awarded a white belt. (Who knew?) Kenny one step away from a black belt. Barry, well, too many steps to bother.
Sidekick also sidetracked Weiss into a recording studio. Kenny recorded a rap song, Who Would Have Ever Known That. Apparently, Kenny's sensei was banging (his words, not mine) Barry's cousin.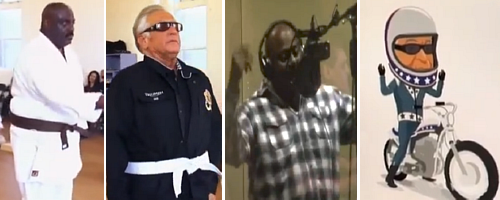 Does that mean they're related? The Collector and King of Pralines. Weird family tree.
Next pit stop by Kenny as well. His friend Cory's garage. What now? Kenny had Cory create an animated Barry Weiss Evel Knievel. That was cool.
The Hunt
Yoshi owned a motor shop. Also a fan of the daredevil's memorabilia. He had a leather jumpsuit, but it wasn't authentic.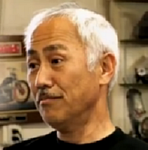 Barry needed a lead.
Barry: Who do you know that may know… who do you know that may know… who do you know… who do you know that may know… someone.
Wow, Barry, get it out already! Yoshi's response.
Yoshi: That's my friend, maybe you know.
O-M-G, just get on with it. Who?! (Yes, I know, "Who's on first.")
Bruce Meyer from Beverly Hills, that's who. That information was only on a "need to know" basis, "you know."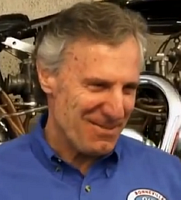 Seller
Meet Bruce Meyer. Bonafide collector of antique racing cars. His collection of motorcycles stacked 3-tiers on a wall.
Bruce did own leathers from Evel that he'd kept for thirty years. He went to retrieve it.
Hello! They're not white leathers (most commonly photographed).
They're blue leathers.
Barry: Oh, you got the blue ones. These were like his practice leathers. He jumped more time in these than an other leathers he's owned.
The Deal
Barry arrived two hours late to the meet. Unbelievable. Chris and Bruce tad impatient. Weiss however was present. Time to show off the leathers. Chris looked at the cuffs. Right cuff engraved with the letter "E." Left cuff engraved with the letter "K." Tag inside read: Created Especially for Evel Kneivel by Tony Llad.
 Chris: This is the real McCoy.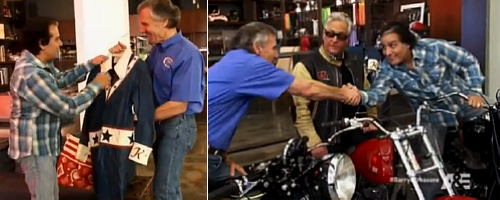 Negotiations uber fast. Offer $40,000 cash. Counter $50,000. DEAL!
 Stunt
Time for Barry Weiss to jump over 15 buses to break Evel's record. Chris and Bruce sat and watched for victory or for defeat. Chris even loaned Barry the Evel Knievel helmet.
Rev Engine · Accelerate · Ramp · J-U-M-P!
He did it! Barry broke Evel's record. Weiss jumped over 15 buses. Oh, they were NOT real buses. Scaled down buses. Very scaled down buses. Okay, they were toys!
Did you watch any of Evel Knievel's stunts on YouTube?
Please leave your creative comments in the box below.