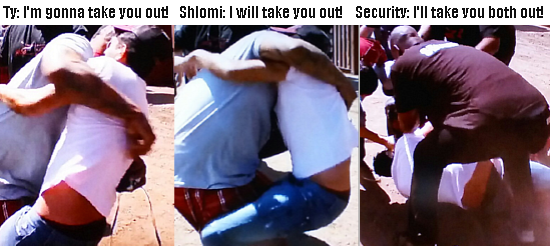 Container Wars: Season 1, Episode 8: "Shark Attack."
Mo and Ty established themselves as the "Team Muscle" by their trash-talk intimidation tactics before the auction.
If you pick a fight, you will find yourself in a fight.
Uzi bumped Mo.
Mo shoved Matt.
Ty pushed Matt, twice.
Ty pushed Shlomi.
Shlomi got all up into Ty's face.
Ty grabbed Shlomi.
Shlomi grabbed Ty.
FIGHT CLUB!!!
Morons.
Security pulled them apart. All was once again well with the world.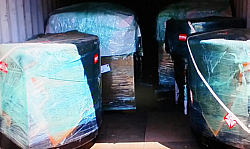 1st Container: Port of Origin – Venice, Italy
Fragile, handle with care boxes wrapped in plastic. Cheap shoelaces littered the floor. Israelis know fashion and women's high end shoes do NOT use shoelaces.
Matt peered into the container through his toy binoculars. He looked adorable.
Matt assumed the items wrapped were display cases filled with jewelry. Keep dreaming, Matt. He won, but what did he win? High end display cases. Good. Boxes full of cheap flip-flops, shoelaces, and socks. Bad. Very, very bad.
Cost: $34,000
LOSS: -$24,00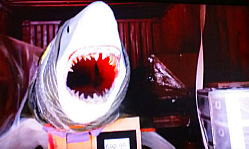 2nd Container: Port of Origin – Eastern Cape, South Africa
Taxidermy haven. Huge shark front and center. For some reason Uzi had to call his brother to ask if the taxidermy shark was from the movie Jaws. Dude, seriously? The shark from Jaws is at Universal Studios, duh!
Eyal: Jaws? Really? That's what I have to deal with?
That's what I said, Eyal.
It was however Jason who would win the dead-animal container, ew. Besides the shark he found a lion, armadillo, monkey, and a small bird. No endangered species (just Bambi's dead friends) which would bring Jason a profit.
Cost: $12,000
Profit: $12,000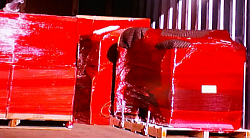 3rd Container: Port of Origin – New York, New York
Wrapped in red plastic; however, there were indicators such as the smell of bleach and a coin operated washing machine in front. Back crates possibly major appliances. Ty spied an ATM machine in the far back.
Mo: What dumbass ships an ATM machine with cash inside.
Exactly, Mo, that's what I was thinking as well. Mo and Ty won but the first items they pulled out of the container were used appliances. Not good. First box full of small bleach bottles, the type you find at a laundromat. Not good, not good.
Crates contained six new stackable washer with dryers. Very good! Now they needed a locksmith to break open the ATM machine and a coin changer. Locksmith worked his magic and, wait for it…
NOT-A-THING
inside that ATM machine.
Bahahah!
Seriously, like someone would ship money inside an ATM or coin changer.
Cost: $17,000
LOSS: -$1,850
Karma's a be-otch, boys.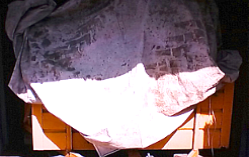 4th Container: Port of Origin – Chicago, Illinois
John Kunkle mentioned the container weighed four tons. Whoa! Inside a trailer with a cover. Trailer itself marked: Tarmac and Runway Access. We know it had something to do with airplanes. Shlomi worked in construction.
Shlomi: It's a garbage container. It's a stupid scrap metal cart.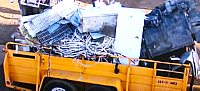 Did Uzi listen? The mystery behind the cover overpowered any common sense.  Uzi won. What did they find? Airplane scrap engine motor, scrap metal, and cables. Would Uzi tell Shlomi he was right? Not even.
Cost: $29,000
LOSS: -$9,800
What did you think of the Fight Club at the shipyard?
Please leave your opinions and thoughts in the comment box below.