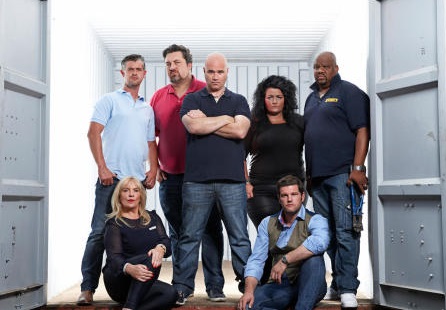 Reality TV in general and storage auction shows in particular have deep roots in America, but the trend is spreading far and wide. By now you've probably heard about Storage Wars: Canada, but did you know that the UK is getting in on the act with its own Storage Hunters spin-off?

If you've been keeping an eye on British television lately, it's no surprise. For more than a year, the original Storage Hunters has been the top-earning show on Britain's "Dave" network, a channel comprised of a few original British shows (like Red Dwarf) alongside American imports. The show pulls in a million viewers for each new episode, making it the most popular program on the network.

Now, a new series has been unveiled: Storage Hunters UK, a 10-part spin-off from Sean Kelly himself. The first episode is set to air on October 28, and it features a brand new cast of bidders. Details on the cast and locations haven't been publicized yet, but we know from reports at Digital Spy that the show will have a British twist and a new voice-over to drive home the humorous aspect of the show.

Now, it's anyone's guess how well the show will do. Previous attempts to replicate American reality TV in the UK have flopped, like the lamentable Pawn Stars UK. Then again, since Kelly and a few of the other American stars are on-board for the remake, it might translate better to the new audience.

It's also possible that the popularity of Storage Hunters in the UK has less to do with the subject matter and more with its portrayal of Americans: Many British viewers undoubtedly enjoy this particularly over-the-top version of the auction show format specifically because it feeds into stereotypes about life across the pond. This is evidenced by the way Dave Network itself describes the show on its website: "If the phrase "one man's trash is another man's treasure" got drunk and started punching a chubby man from Arkansas the resulting horror might look like Storage Hunters."

It's an accurate description, but not a particularly flattering one.

All of this does raise the question: Have storage auctions in the UK become more popular thanks to the reality shows?

While that was certainly the trend in the U.S., real-world storage auctions in the UK are less common. Although storage facilities retain the right to resell items from delinquent units, these items are usually sent to warehouses for auctions rather than selling them off one unit at a time. Storage unit usage in general is also pretty rare, although it's been growing over the last few years, especially for businesses. As the popularity of Storage Hunters UK and other storage auction shows spread across the British Isles, storage auctions might really begin to take hold in the UK.