The location for the today's episode of Storage Hunters UK is Perth, Scotland.
To commemorate the occasion Sean and Mini Mile are wearing kilts. The traditional way. Luckily we are spared the demonstration.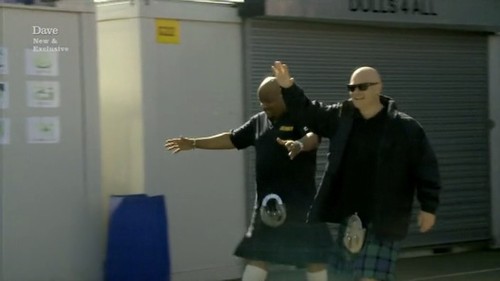 Heavy D is back. Also we have a couple of new local players – Glasgow Gary and Matt.
STORAGE UNIT 1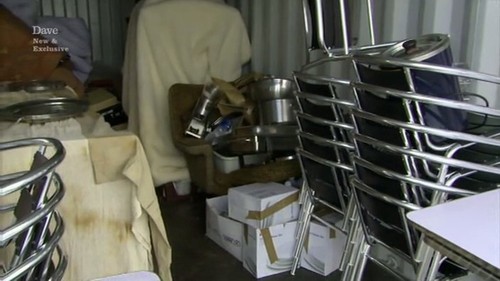 A bunch of discarded catering equipment (chairs, tables, dishes, cups). And the unit smells. Naturally Danny is interested.
The bidding starts, Heavy D jacks up the price, but Glasgow Gary wins the lot for Ł3025.
Sean and Glasgow Gary check what else is in there – they find a coffee machine, an old telephone box and a hand cart.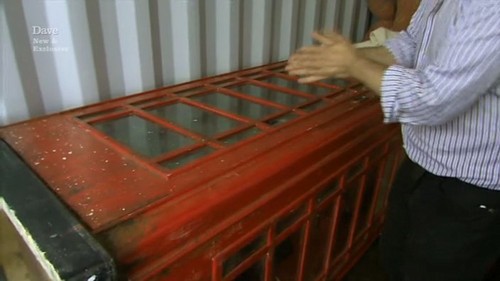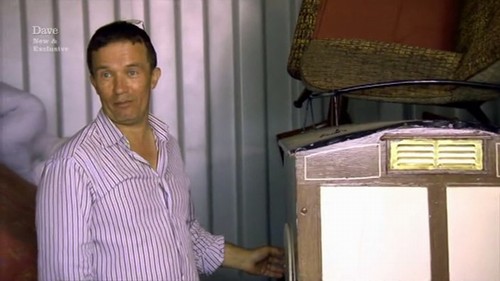 And Sean shows us that he is indeed wearing nothing underneath the kilt.
Wecannoteven.

STORAGE UNIT NUMBER 2
A bunch of furniture and some toys.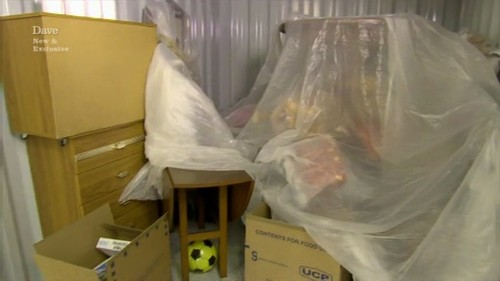 Linda's strategy is to observe George and see what he does, because he is seeing something interesting. Danny is interested.
Linda thinks it's good Heavy D is around because people think he is thicker than her. Oh Linda – we would never!
The bidding starts and Heavy D jacks up the price again. Matt wins the auction at Ł1800. People are PISSED.
But Heavy D is not bothered – I jedi-ed them up. You can't jedi me. I'm the jedi master. I am Yoda. (that's what he said).
Well Yoda. Maybe next time pull your pants up? Just saying.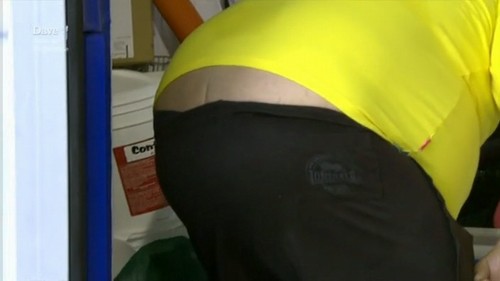 We'll tell you – between Sean's full frontal and Heavy D's b*tt crack we are scarred for life. FOR LIFE.
CAR AUCTION
Sean invites the players to a car auction.
Linda and George decide to go 50 – 50 on the car auction. They do a pinky swear (we wish we were kidding). But the ever observant Nat spots rust on the ground.
The bidding starts and George and Linda win the car auction at Ł2800.
Sean reveals the car and as Heavy D predicted it is a piece of sh*t.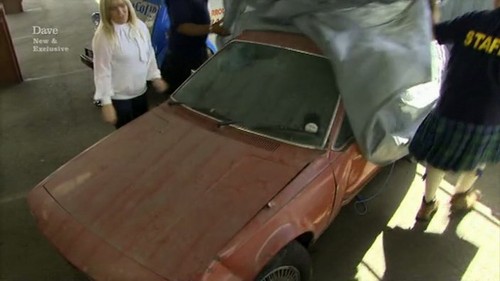 No. In fact it's even worse because a) the car is a rusty piece of sh*t and b) Linda and George have to remove it from the premises by the end of the day. Linda wants nothing to do with it.
STORAGE UNIT NUMBER 3
Something under the tarp, might be a boat. A bunch of fishing equipment.
Matt (the new player) and Nat and John are interested.
Nat and John win the lot at Ł2800. Sean takes them to have a look at the unit. Nat thought it was a speed boat.
A speed boat? Nat?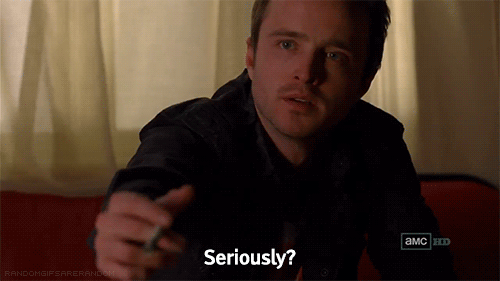 Instead she got a crap fishing boat.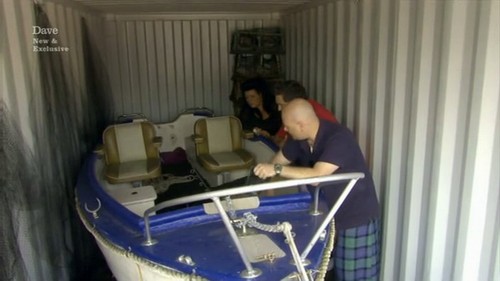 Nat and John have a domestic.
Back to storage unit number 2 to see what it contains.
A cotton candy machine. Some kiddie bikes. A gong. A Peterbilt hood grill. An old weighting machine.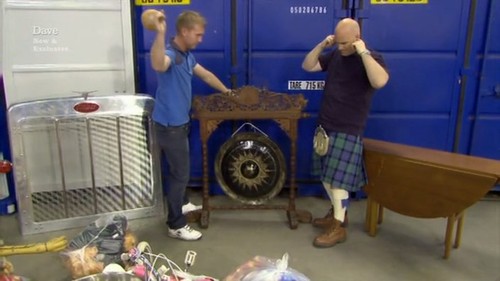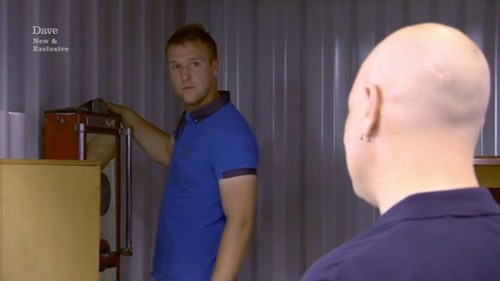 STORAGE UNIT NUMBER 4
On their way to the storage unit 4 Sean shares he loves the freedom of the kilt. Alright then.
But when Mini Mile cuts the lock and opens up the unit it seems there is a gas leak of some sort. Our players clear the area pretty damn sharpish. But after the talk with the manager Sean assures them it is just a helium leak.
Ok we are well aware we might sound like Linda now – but since when do exterminators use helium? What would that be in aid of – to make the rats sound funny?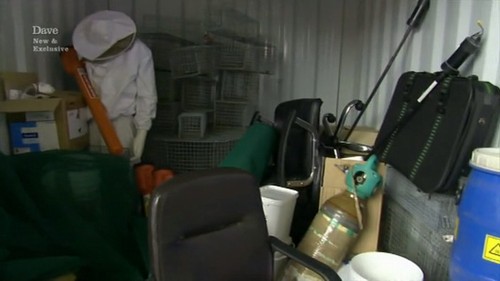 Exterminator equipment. A couple of exterminator suits, some rat cages and what appears to be barrel of poisonous substance.
Matt has a bit of fun with Heavy D and jacks up the price. Heavy D wins the lot at Ł1000.
Sean and Heavy D investigate the unit. They find some bugs in acrylic. A dead rat (in case you were wondering Heavy D runs away like a baby from the dead rat. And we don't blame him, we would run way too). A poison gas applicator. And the exterminator suits are custom made and worth some money.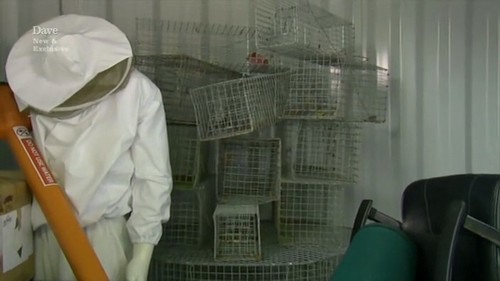 Meanwhile Nat and John go for a boat ride. Brave of them, that boat doesn't look particularly sea-worthy.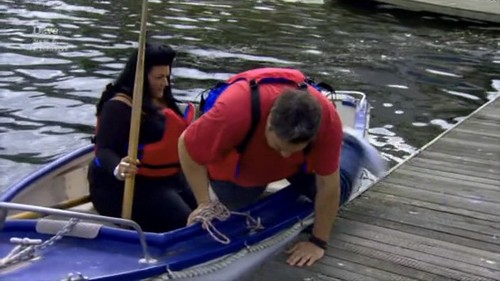 Random thought of the day – what the what with Dapper Dan and his case of man boobs?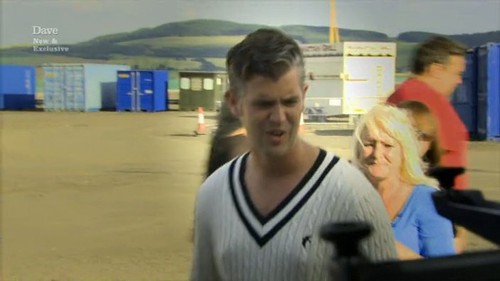 Profit
Glasgow Gary Ł475
Linda and George -Ł2800
Nat and John -Ł1800
Matt -Ł150
Heavy D Ł1000
So, what did you think of this episode? Leave your interesting and creative responses in the comments section below.