The location for the today's episode is Glasgow.
STORAGE UNIT NUMBER 1
Some old furniture, a vintage looking kitchen unit.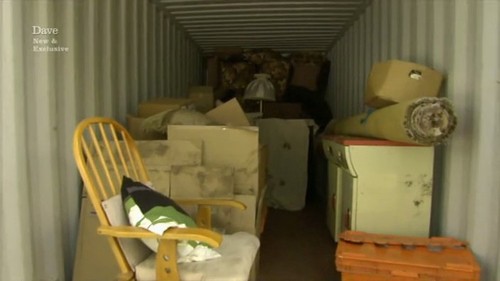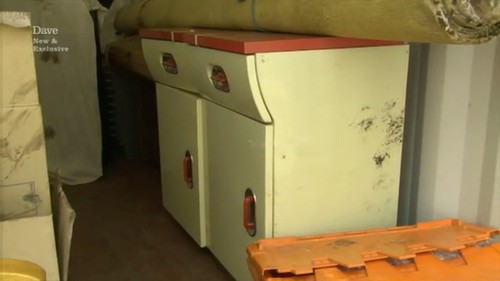 Nat and John are interested and so is George. George – John is Nat's lap dog.
The bidding starts and Nat and John win the lot at Ł700. They investigate the unit with Sean. Chairs, sofas, a bar, 4 candelabras and the aforementioned vintage kitchen unit.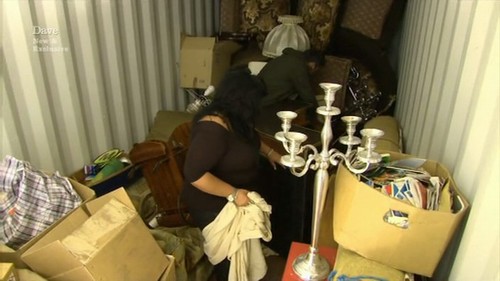 They made a profit on this unit, but Nat confirms if they lost money, it would have been John's fault.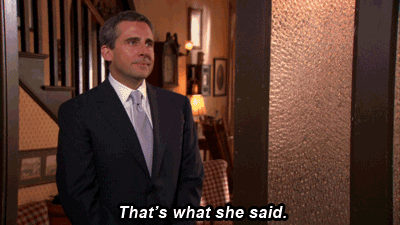 STORAGE UNIT NUMBER 2
A children's bike, a guitar. Danny is interested and so are Nat and John.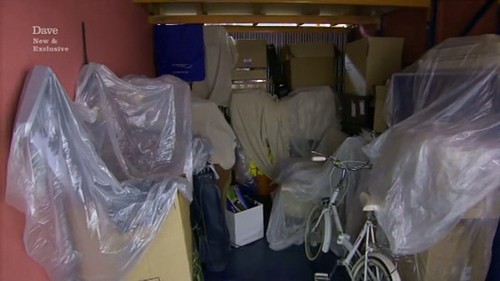 Danny explains why he is being a pain in the a** – I love winding people up, getting under their skin, they don't have their head in the bin and that's how I make money.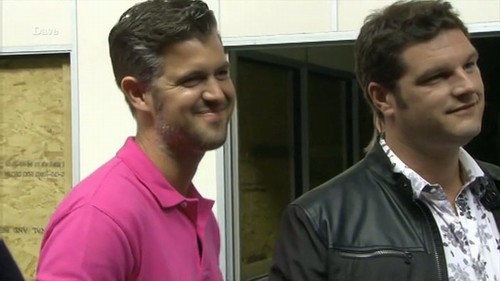 The bidding starts and Danny wins the lot at Ł1000. Nat's face says it all.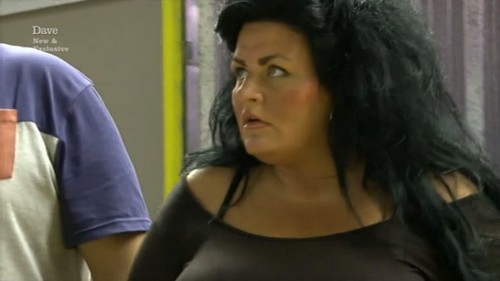 Afterwards Nat, John and Linda have a good gossip about Danny. The gist of it – they can't stand him.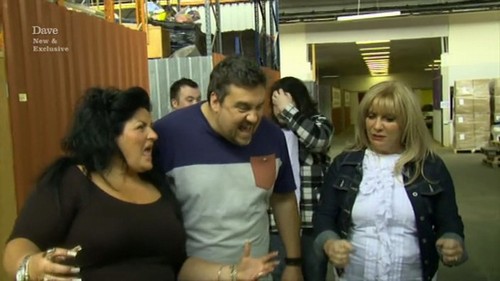 STORAGE UNIT NUMBER 3
Some books and musical equipment.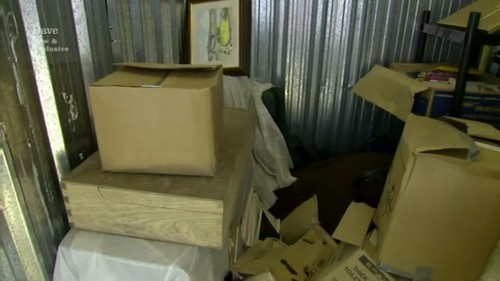 Linda thinks it's instruments. Matt thinks Danny is all mouth. He is getting on everyone's nerves and will get punched by the end of the day.
The bidding starts and Nat and John decide this would be a good time to have another one of their domestics. Linda wins the lot at Ł875. Nat and John continue with their domestic. Nat is pissed John is sticking up for Danny. And she tells John she is the one making money. What's this – Storage Hunters UK or Couples Therapy?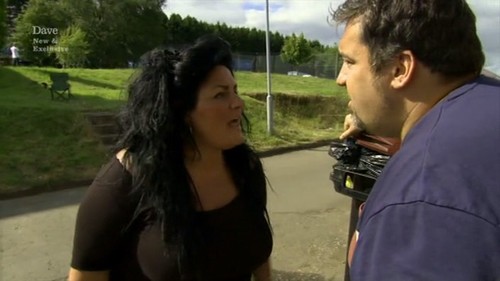 Linda investigates the unit with Sean. They find a pair of bongos (Sean says they are in good condition and a nice brand). Further inspection reveals a guitar stand, an old record player, a banjo, a mandolin and a violin.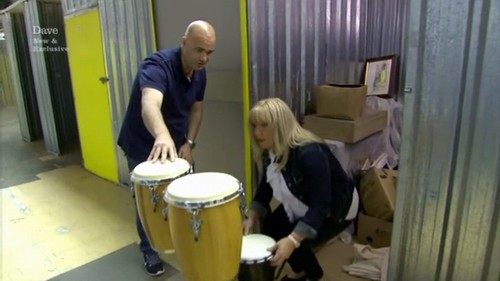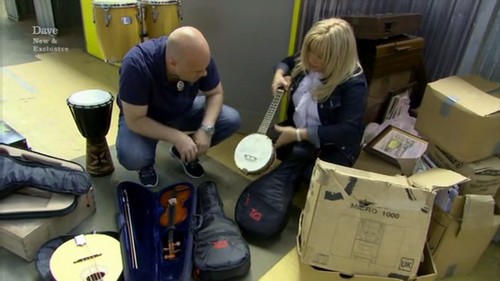 Sean decides to give playing a violin a go – hm maybe better no dude, you might break it?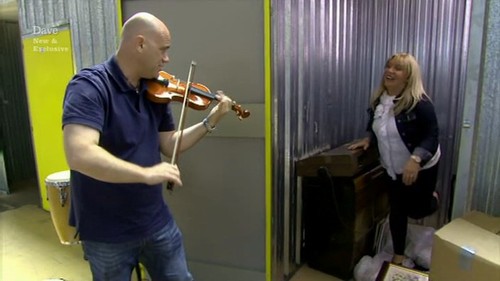 In total Linda has five instruments that she will need to get appraised.
STORAGE UNIT NUMBER 4
A bunch of pet store stuff?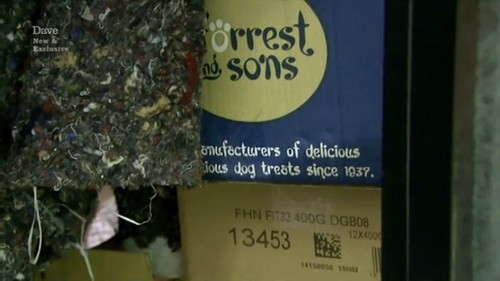 Danny and Nat have an argy bargy.
Danny – her problem is she is jealous. She sees John, he's not good looking. She sees me, a good looking guy, nice tan, making a lot of money. Hm yes, that's what he said.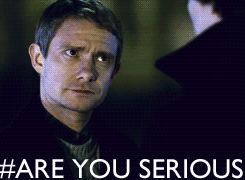 ANYHOW back to the unit. Linda can see sawdust, it's something to do with animals. And our Linda, she doesn't like animals. George shares he might have a cheeky bid.
The bidding starts and wouldn't you know, Nat and John end up bidding against each other? Seriously.
George wins the lot at Ł1200. Another domestic between Nat and John.
George investigates the unit with Sean. A gerbil cage (luckily without the gerbil). A bunch of dog and cat toys.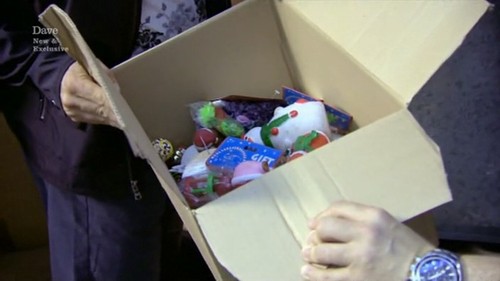 A big dog bed (for John says George). A bunch of dog jackets.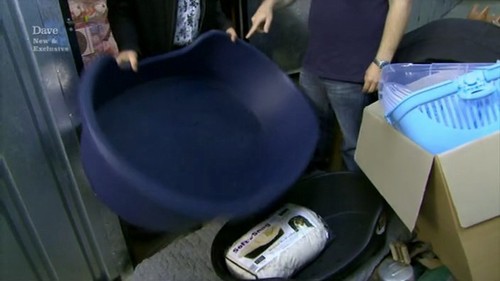 And a stuffed dog. As in – this is not a toy dog. No. This is a dog that was dead and then the poor bugger got stuffed. No, we aren't kidding. We wish we were.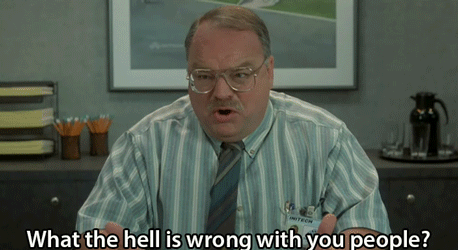 George has made a loss with this one. Sean asks George whether it was worth losing Ł400 just to wind up John, George says yes.
Back to storage unit number 2 with Danny. An empty guitar case. 3 (!!!) pinball machines.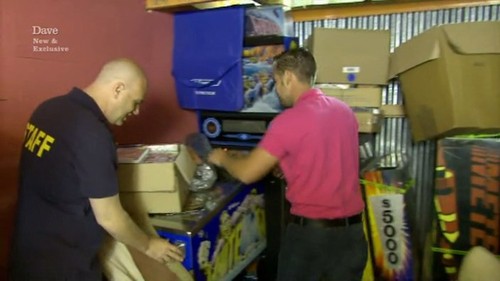 And a major score – a Gibson guitar.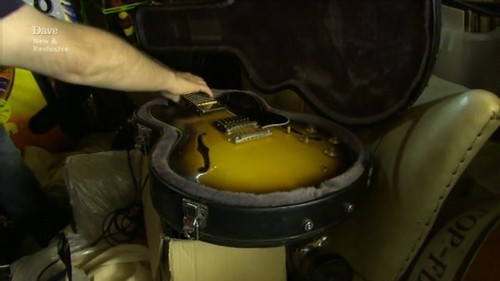 Linda gets her instruments appraised and the whole lot is worth between Ł800 and Ł900.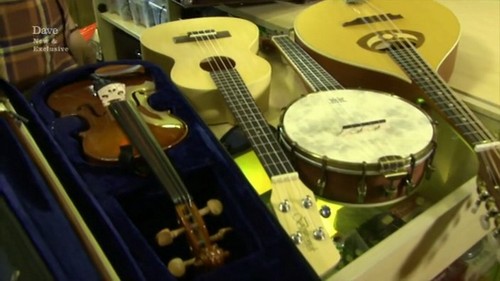 Afterwards Linda has a jam session.
Profit:
Nat and John: Ł1300
George: -Ł400
Danny: Ł2000
So, what did you think of this episode? Leave your interesting and creative responses in the comments section below.