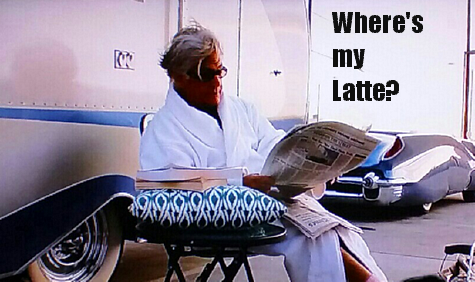 Storage Wars: Season 4, Episode 18: "The Storage Buyer in You."
Barry drove to the auction in his Jetsons space automobile with matching camper. The Collector camped for the night, grilled dinner, read a book… you had to be there.
Ivy smack talked how he would dominate and cause pain. Darrell smack talked how he would give Ivy a taste of his own medicine. Brandi smack talked against the hot, windy city of Lancaster. Jarrod told her to keep a positive attitude.
Brandi: I hope that works out.
My, my, my, everyone was in a mood; except for Barry who was well rested.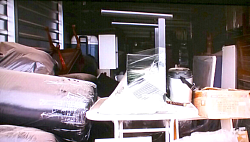 1st Storage Unit
Lots of furniture wrapped in plastic, really good sign. Everybody wanted this unit. Barry started the auction at $1,000 (dang!) and won the locker for $3,350 (dang, dang!).
Barry: When you bid big, you win big.
I wouldn't carve that in stone, Barry. He dug through his unit and found a rocking chair, side tables, loveseat, ottoman, leather chair, dining set, lots of big furniture pieces, and um, an interesting bowl set. All white with a pair of xylophone type mallets.

Barry took his bowl set to the Temple of Light for appraisal. White bowls were made of pure quartz crystal, set of seven, called Chakra bowls or Tibetan healing bowls.
Rub the mallet around the bowl and you hear a resonating note which corresponds to one of the seven Chakras on the body. Valued at $2,000 and Barry sold it to the temple for $1,500.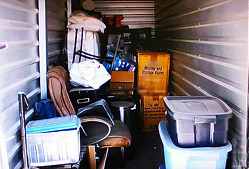 2nd Storage Unit
Rubber containers, sealed boxes, mattress of better quality packed in back, and miscellaneous stuff. Darrell mimicked Ivy, "I will bid on lockers because I can." Ivy was not amused. That set him off to outbid Darrell at $700.
Ivy also won the next three lockers at $145, $450, and $165. For the first time we saw Ivy Calvin's thrift store, Grandma's Attic. Nothing to write home about (and that's saying it nicely).
Ivy unloaded the merchandise and uh, it was less than stellar. He found a cigar humidor which he priced at $100. His store's in Palmdale. That city is half gangster and half not. I've been there, so I know. He thinks he'll get a $100 for the humidor in Palmdale? No way! Ivy priced a ring at $200 and a necklace at $100. He's totally overpricing his merchandise as he did on his first appearance on Storage Wars.
Darrell: One thing I learned about Ivy, he is the King of Crap.
Sorry, Ivy, but that stuff you bought was just, ugh. Wait till you read his profit score for four lockers, and you'll see what I mean.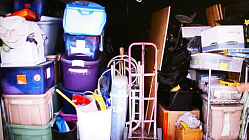 3rd Storage Unit
Rubber bins labeled "fabric," a hand cart, boxes, step ladder, and so much more. Locker was a thrift store haven. Darrel vs. Ivy but at $2,200 Jarrod placed his bid then won at $2,400.
Jarrod's plan was to dig straight through the middle of the large unit. Brandi chomped on M&Ms and told him to go for it. He found a gas powered hobby plane, 20 bins full of fabric, dishes, hundreds of DVDs and CDs, a few Blu-Rays, and DJ equipment.

The Young Gun rapped, "What? Flavor. What I don't know. But I just flow." Brandi said that was so embarrassing. Jarrod agreed and hoped it would not make it onto the show.
Brandi: Too late, dumb-ass.
Couple took the DJ equipment to Capitol Records to DJ Cobra. Appraiser stated they had a beginner's kit. Two new mixers (that scratch sound you hear) model Numark NX900. Also found a Numark iM9 in a case. That is a 4-channel mixer with effects. Because it's a beginner's kit the value was only between $500-$600.
Profit Scorecard:
Jarrod Schulz & Brandi Passante: $2,880
Barry Weiss: $1,955
Ivy Calvin: $490
Darrell: $0
Darrell stated at the beginning of the show it was either him or Ivy who would win lockers. Darrell did not buy a locker. Ivy bought four lockers but barely made a profit. Who then won the battle? No money spent or money spent on crappy lockers.
Please add your opinions about the show in the comment box below.