Where is Dave Hester now?
Was Dave misunderstood and wrongfully portrayed as a villain on Storage Wars? Or is what-you-see-is-what-you-get?
Travis Lane, owner of OnlineStorageAuctions.com, had a long conversation with Dave Hester on the phone. What baffled Travis was despite the arrogant veneer displayed on Storage Wars, Dave really sounded like a nice guy.
Is that so hard to imagine?
Dave Hester revealed his love for family, his charity work, and how he enjoys fishing now that he's semi-retired.
Sounds like a normal guy, but we'll let you decide.
Dave Hester Interview
Q: Can you remember the first time you said, "Yuuup" at auction?
A. I used to be a bid catcher at an auction house about 25 years ago. I used the YUUUP! yell so the auctioneer would know I had a bidder.
Q: When people recognize you, do they yell out "Yuuup!?"
A: Every day – All day.
Q: How does it make you feel knowing you are the only cast member on Storage Wars to have created a "brand" for yourself?
A: The other cast members can't even tie their shoes let alone brand themselves.
 Slap! Dave is still the same character who called his cast mates "Pukes."

Q: You bought your first storage unit near thirty years ago, can you remember how much you paid or made off the unit?
A: I just remember that I made good money and I was hooked.
Q: Do you miss owning your own thrift store now that you've closed Rags to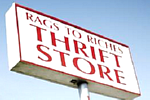 Riches?
A: Sometimes I miss it, sometimes I don't.
Q: Do you plan on owning another thrift store or is that in the past?
A: Never say never.
Q: What happened to the warehouse you rented?
A: I still have my Warehouse and still buy storage units.
What you may not know about Dave is that he really is a family man and enjoys spending time with his "2 pugs" (kids) as well as how much he loves to go fishing. His father was a great influence in his life. One of the most touching moments about Dave on Storage Wars was when he spoke of his late father and his father's train collection.
Q: Will Dave Jr. follow in your footsteps as an auction hunter?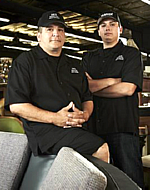 A: He is more of an I. T. guy.
Q: Did you keep any piece of your father's train collection for yourself?
A: Yes I kept some of his trains. I was raised around a house full of Lionel Trains, so when I see them it brings back good memories.
Q: Do you personally have a collection of some kind?
A: I collect money.
 Come on, you gotta love that answer. It's sooo Dave Hester, "The Mogul!"
Q: How do you spend down time with your family?
A: I like to spend time in Alaska fishing and Cabo San Lucas, Mexico. I work hard to play hard. There is nothing more rewarding than family and friends fishing.
Dave is not only a storage hunter but has been an auctioneer for at least two decades. Check out his website http://davehesterauctioneer.com. Dave's auctioneer services include storage auctions, abandoned personal property, commercial/industrial & liquidation, estate auctions, special events, and charity auctions. You can call toll free for more information at 1-855-HEY-DAVE.
Q: Can you remember your very first time as an auctioneer?
A: Over 20 years ago I just got up on an Auction Block and started selling.
Q: How far in advance should someone try to book you as an auctioneer?
A: The more time we have the better.
Q: When you auction off storage units now that you're off the show, does it feel surreal to you as the auctioneer not the buyer, and do memories of the TV show come flooding back?
A: It's hard not to bid when I see a good unit & no I don't think about the show.
Not only is Dave Hester an auction hunter and auctioneer, but he's also a humanitarian. He's been involved in charity auctions for just as long as he's been in the storage auction business. Dave auctioneers at as many charity events.
Q: Which is your favorite charity?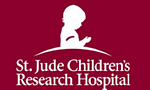 A: I have been donating to St. Jude's Children Hospital for over 20 years. Last year in Texas I was the auctioneer for a fundraiser for St. Jude's Children Hospital. I worked with Eric Trump, Bret Michaels and JT Fox. We raised over a ½ million dollars in 2 hours.
Family man, storage hunter, auctioneer, humanitarian… what hasn't Dave Hester done?
Q: Do you have any aspirations or a bucket list of things you'd still like to accomplish?
A: I have been lucky enough to already have completed my bucket list. Anything and anywhere I wanted to go and do I have done already. All around the world. The rest of the ride is just gravy.
He's done it all, almost. Dave Hester's about to become a published author. He wrote a book. It's currently "untitled."  The book will be released by September 13, 2013 and will be available in paper and e-book and sold on Amazon and on his website. Dave expressed to Travis Lane what his book was about via telephone.
Q: What is your book about?
A: It's a "How To" book for newcomers in the storage auction business that would include advice from my decades of experience buying storage units, auctioneering, running a consignment store and thrift store and buying furniture from liquidators.
If you like his brand "Yuuup," you may buy products through his website or directly through this link: http://www.yuuup.com/. T-shirts for men, women, and children are available. As well as hats, mugs, and even an autograph photo of Dave kissing money!
Q: Which is the hottest selling item right now on your website store?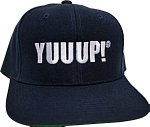 A: Hats.
Q: You're time on the show garnered you a degree of fame, is that a good thing or does it interfere with your personal life?
A: There is good and bad in everything.
Q: If you could change something from your time spent on Storage Wars, what would it be?
A: Not to have spent time on Storage Wars. That's as much as I can say at this time.
Q: Why do you feel you were portrayed as a villain on Storage Wars?
A: Ratings.
Q: If there is one thing people may misunderstand about you the man, Dave Hester, what would that be?
A: To know me is to love me.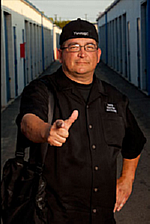 Q: Is there something about you that would surprise people?
A:   I'm a great Guy.
At least he stays true to his character!
Q: Would you consider being a part of another reality TV show if offered or are you done?
A: I'm probably done.
Q: Where do you see yourself in five years?
A: At this time I am going to get on the commission side of the business as the auctioneer for storage facilities and moving and storage companies. I am already semi-retired. Just staying busy fishing, auctioneering and writing e-books about my business experience.
Q: How do want to be remembered when all is said and done?
A: The man who spoke the truth.
Dave Hester will always be synonymous with Storage Wars regardless of which cast members stay or go. You either loved him or hated him with almost no shades of grey in between.
So, where is Dave Hester now?
When not buying or selling storage units, you will most likely find him auctioneering in California or on a boat fishing, having the time of his life.
What do you think of Dave Hester and his time on Storage Wars? Do you think he will be successful as a storage auctioneer?
Leave your interesting and creative responses in the comment box below.