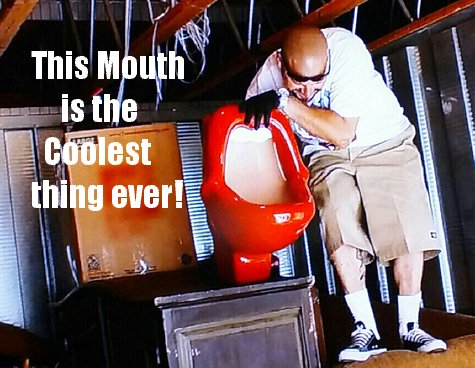 Storage Wars: Season 4, Episode 17: "Total Wine Domination."
Barry brought Adam, his accountant, who advised "The Collector" to get out of the auction business. Oy, vey! Earl, Johan Graham's father, got lost on his way to Mission Viejo. Oy, vey! Mark Harris stated to Matt it was official,  today they would buy a locker. Oy, vey!
It's gonna be an "Oy, vey!" day.
1st Storage Unit
Reproduction antique table with glass ball feet, cabinet, coat rack furniture piece, drum set, and a few boxes. Rene Nezhoda told his wife Casey it was worth to play. He took a leap upward to see the back of the unit.
 Rene: I'm too fat to jump.
He said it, not me. Harris brothers would make a play on the locker and whipped a bid of $500. Barry whipped back at $1,000. Barry's accountant about had a heart attack. Barry won at $1,150.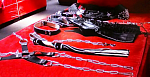 As Barry dug through the storage unit he found a beveled mirror, wardrobe, and underneath a drum… oh, looky-looky here. S&M gear. Not M&M like the candy. S&M as in bondage. Of course, Barry had to have it appraised. Accountant stated he couldn't see a profit off the locker.
Barry: I make losing money look fun, don't I?
Yes you do, Barry, yes you do! He and the accountant took the bondage gear to Purgatory (not kidding). Woman clad in all leather assessed the inventory: mouthpiece, gimp mask (don't ask), basic collar and leash, ballet boots, flogger, body harness, and cuffs.
OY, VEY!!!
Barry and the leather clad woman strapped Adam the accountant with the body harness. Yep, it works. All to the whip-whip flogging sound of $700 for the collection.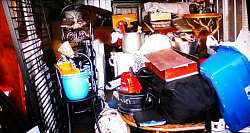 2nd Storage Unit
Stove, fishing poles, and a whole household load of stuff. Jarrod stated it was a guy's unit. Brandi disagreed. Jarrod's subtlety was lost on Brandi until he hinted that Hansel & Gretel were standing right behind her.
Brandi: (whispers) I like this unit a lot.
Atta girl! Jarrod said, "If Brandi is nagging me to bid, you know it's a good locker." Rene and Casey liked the locker, too, but so did Barry.
Three way bid war. Johan tried to keep Barry in the mix by asking him to "listen to the sound of her voice, not the sound of his accountant's voice." Adam however did manage to pull Barry away, which gave room for Jarrod to win at $1,900.
Jarrod plowed through the locker. Found more fishing rods and reels, DVDs, Craftsman tools, gas dryer, and a surprise. A mouth. A urinal mouth.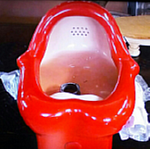 OY, Vey… GAH!
Jarrod: I can't wait to get a unrine-ologist to take a look at my mouth.
So wrong on so many levels. Jarrod and Brandi took the, uh, mouth urinal to a wacky artsy store to have it appraised. Designed by a Dutch woman. Lip Urinals were made for the JFK airport but never installed. Only a few of these urinals are in existence. Appraiser asked if they wanted to sell it or keep it.
Brandi: There is no way we are keeping this thing.
If they sold it immediately they could ask for $2,500. If they waited for the right buyer, might get $5,000. It's art. But it's a urinal. But it's Art! But it's a URINAL! OY, Vey…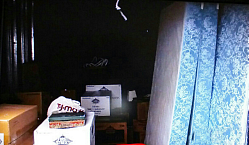 3rd Storage Unit
Lots of restaurant supplies, few mattresses, Asian vases, and boxes. Harris brothers are not in the restaurant business, so they were out.
Once the bid jumped to $1,000, both Jarrod and Rene took a second glance at the locker.
 Johan: You can look. You can look. Don't overlook it.
Rene won, but barely at $1,050. He found art, kitchen household supplies, home goods, shoes, jewelry, and nightstands. Casey found designer scarves. Rene said he could sell each scarf for $100 a piece.
OY, Freakin' Vey, no you can't!
Did Rene take, "How to over value the resell value of your merchandise" lessons from Ivy Calvin? Seriously, German, get a grip. He did find four bottles of wine and a wine kit to have appraised. Good thing the storage facility was climate controlled, otherwise the wines would have been worthless.

Wine connoisseur stated that when someone says, "Really great year" for wine, that meant the weather was good for the grapes to grow. On French bottles, the more words on the label, the higher the value.
Wine kit helped one identify the aroma of wines, valued between $200-$300. Wine bottles were each valued at around $100 a piece, except for the Bryan Family Vineyards 2008 wine valued at $500.
Profit Scorecard:
Jarrod Schulz & Brandi Passante: $5,725
Rene & Casey Nezhoda: $1,150
Barry: $300
Harris Brothers: $0
Mark and Matt Harris still cannot score a good unit. Should they stay on the show or go?
Please express your insightful opinions in the comment box below.