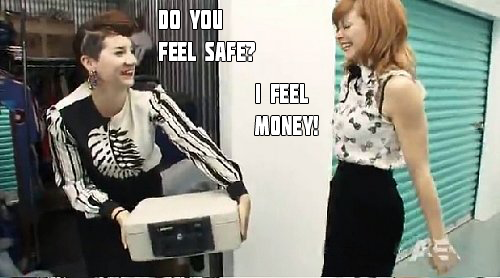 Storage Wars: New York: Season 2, Episode 5: "Da Bronx Tale."
Welcome to the Bronx! New location for auctioneer John Luke. This hard hitting part of the city proved to be unfamiliar territory for most of the buyers. Mike felt right at home as this was his old neighborhood. Even the auctioneer had some trouble finding the auction. Maybe he needs a GPS? No wait, he's got one and still managed to get lost. Buyers wisely adjusted their strategies accordingly.
Chris and Tad aimed to stay focused – buy smart (laugh, laugh). As such, Joe P brought another pair of hands to help him spot designer vintage clothing. Meanwhile, Candy and Courtney's impending pop up shop at a burlesque show meant they needed merchandise. ASAP! Not even Mike's warning that the Bronx doesn't take kindly to strangers deterred our fashionistas.
Candy: I have some wheat thins I can give them.
What?  It makes perfect sense. Just nod along.
1ST Room
Messy, dirty, with nothing of value in plain site. Candy and Courtney placed a few bids solely to empty Mike's pockets. The Hustler won at $125. Joe P relieved it wasn't his mess to deal with. Fortunately for Mike, he proved the naysayers wrong when he dug out a brand new gas powered remote control boat. Appraised for $900 – cha ching!
Mike: After you dump a body in the river you get hungry. You need a picnic.
Everyone knows hauling dead bodies is hard work. Let's just hope that's not his workout regimen.
2nd Room
Bit of a quarrel. C&C didn't quite agree as to the quality of the clothing. Fortunately, another buyer jumped in to bid. Stopped a cat fight.  Joe P however, bumped everyone's bid and won at $350. Chance to find some buried treasure.
Chinese checkers board isn't normally what comes to mind when one thinks of treasure. He took the game board to Connecticut. Appraiser valued at $3,700.
3rd Room
With the pressure of the pop up show weighing on them; Candy flirts with Chris prior to the third auction. C&C spot a gumball machine that sparked their decision to bid. But wait – Tad bid on the room, too! Chris visibly upset Tad didn't confer with him. But then Chris realized Tad up the bids to dump the room on the gals. Candy and Courtney won at $350.
Chris: Who knew he had it in him.
Unfortunately, aside from the gumball machine there wasn't anything of value. Their pockets took a hit albeit temporarily. The pop up shop was a huge hit for Candy and Courtney. They earned back what they spent. Candy was a huge hit at the burlesque show (that woman knows how to work it).
On an unrelated note, does anyone have any insights into Mike's obsession with Rodney Dangerfield? Seriously, what's up with that?
Mike: No respect!
Profit Totals:
Joe P: $4,300
Mike Braiotta: $890
Candy Olsen and Courtney Wagner: -$300 +$1,300 = $1,000
Chris Morelli and  Tad Eaton: $0
Do you think Mike gets no respect?
Please leave your interesting opinions in the comment box below.