Container Wars: Season 1, Episode 7: "Secrets of the Orient."
The crazies back for the second half of season one. Deana, former beauty queen, gorgeous as ever. Ty sported a Mohawk, which was so 1980s of him. Mo hadn't changed, still crotchety as ever (his words to Deana).
Matt still in need of anger management classes or yoga to calm his inner core. Jason, two words – Jenny Craig (hey, he gained a few pounds, don't look at me that way). And the Israelis: Shlomi, Uzi and Eval, two words – group therapy.
Let's go auctioneer John Kunkle and pop that can!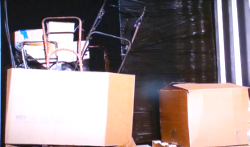 1st Container – Port of Origin – Los Angeles
Used ratty lawnmowers, box with wrapped motors (a guess), and the rest of the merchandise in crates or boxes.
Shlomi gambled until Uzi and Eval cut him off. This was not a WOW factor container which is why the bids didn't really escalate. Mo won.
Mo and Ty found new lawnmower motors and twenty newly assembled electric bicycles which included a racer, cruiser, and chopper.
Cost: $10,000
Profit: $10,000
Mo: I had a hunch.
Ty: I had a feeling before that.
Yep, they still try to one-up each other.
2nd Container – Port of Origin – Hamburg, Germany
The container damaged which was not a good sign. Once the doors opened there were two huge crates that leaned like the tower of Pisa.
Broken glass scattered in front. Boxes in back still intact, but what if everything else in crates were broken during the sea haul?
Matt surmised the glass visible was 5/8th inch thick; display glass for museums maybe. Even that type of recycled glass worth money. Did anyone else want to take the same risk? Uh, no. Matt won with his Matt attack bid.
Jason: Matt attack? What is he attacking?
No clue, Jason, but he just won container full of glass. Would it pay off? Yes. One tilted crate all the display glass intact. Matt found privacy glass for high-end homes, four boxes full of beautiful hand-blown glass, and 45-pieces of Plexiglas. Matt attacked the profit bank!
Cost: $8,000
Profit: $11,000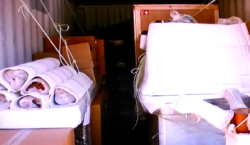 3rd Container – Port of Origin – Gujarat, India
Man cave! Though everything was wrapped the merchandise was obvious; two pool tables, Foosball, and gaming tables. High quality and everybody still had money to blow. Last stand between Uzi and Deana. But the bid rose too high and she was not going to take the bait.
Deana: You want it? Keep it.
Israel's camp happy to unload their goodies. They uncovered two more pool tables inside a crate, plus an air hockey table, ping-pong table, and five rolls of green felt for pool tables.
Uzi: I had a feeling it would be a good container. I'm a genius!
Shlomi refuted that remark but because he used such colorful metaphors, I won't repeat it.
Cost: $30,000
Profit: $20,000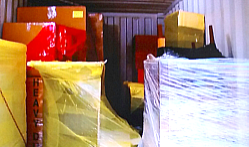 4th Container – Port of Origin – Tokyo, Japan
This was the hyped container of the day, possibly full of electronics from Japan which meant $$$. Everything inside however wrapped in plastic.
Deana thought she had bid beyond Jason's proclaimed budget limit, but he lied and won. But did he score?
First few items Jason pulled out into the open were furniture pieces. First box he cut into full of display fake phones. Second box full of display fake wide screen TVs. Uh, oh. Not looking good. Next box, you guessed it, full of fake small flat screen TVs.
What did he buy? Display shells of fake electronics. Worthless!!! He wanted to go home and cry himself to sleep.
Cost: $29,000
LOSS: -$26,000
Did you think it was worth the risk for Jason?
Please leave your thoughtful and insightful opinions on the show in the comment box below.