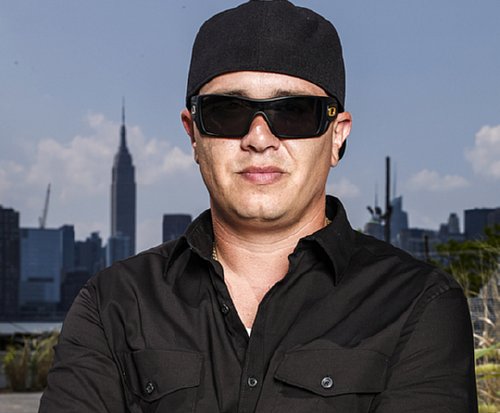 A&E's reality series Storage Wars: New York star Mike Braiotta tagged as "The Hustler." He hails from the Bronx. Tough as nails and quite the manly-man.
He's a hard working guy who is not afraid to talk to anyone. But if you want his opinion, understand he won't be afraid to tell-it-like-it-is; no holding back. Mike was gracious to take some time out of his hectic schedule to answer a few questions for OnlineStorageAuctions.com.
Mike Braiotta Interview
Q. How was life growing up in… exactly where did you grow up?
A. It's not where I grew up, it's more like where didn't I grow up? At a very young age, maybe between 4-5 years of age, both my parents were fighting their own demons. My father was not around and it got to a point where my mother and I were living out of a van. When I was about six-years old, my mother realized she could not support me while she was battling her demons.
I will never forget that day…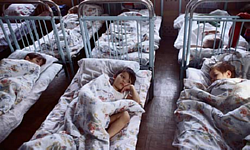 Mother brought me to this place. She gave me a "kiss" and told me she would be back. Later on I found out that I was in an ORPHANAGE!  And soon learned that my mother was not coming back.  For about 2-3 years I bounced around from foster home to foster home; back and forth to the orphanage.
Finally my grandmother on my father's side had seen enough and filed for custody for me. For a 60-something-year old women trying to raise a pretty-much-out-of-control-kid, at that point was a very difficult task.
She did the best she could, and I think she installed enough values in me that carried on to the man I am today. For the record, I do not have or have ever had ill will towards my parents. They had their own problems to worry about at the time they had to give me up.
So my message to all of you out there that blame their lives on their past and cry about how you were raised, go tell your story somewhere else! You are in control of your own destiny, and nothing that has happened in the past has anything to do with your future.
Q. Who was the most influential person in your life growing up?
A. Honestly, I would have to say it was my grandmother who adopted me. If it wasn't for her, God only knows where I would be right now.

Q. What was your childhood dream?
A: Another question that's a tough one for me to answer. The only dream I ever had was to make my grandmother proud of me. And if I were ever to have a family of my own to love and cherish everyday with them; my dream would be to try my hardest for them to not go through what I went through growing up. Honestly there is so much more to the story of my life and what I have been through. Maybe we can explore that rabbit hole a little further later on down the line.

Q. How did you get into the business?
A. About… 7 years ago full-time. I lost my job and was out of work, learning from my uncle about the biz. I tried it full-time, and that's that. Easiest thing to flip are electronics, tools, and jewelry. I usually go to 3-4 auctions per week. Bad news, the whole store was lost after Hurricane Irene, about 2 months after the grand opening. I was able to get liability insurance, but I couldn't get insurance for inventory because there is no real set price per item. Good news is I now have a large warehouse located at my new shop.
Toni's Treasures · 214 Palmer · Ave Mamaroneck · NY · 10543
Q. What is the strangest item you've found inside a storage unit?
A. Room in the Bronx right outside of Yankee stadium was filled with boxes and boxes of bibles. In the center of the room, in a sort of nest, there was one lonely egg. I ended up breaking the egg because I thought it was a toy. Let me just say the smell that came out of it is something I will never forget.
Q. What is your best treasure find from any storage auction to date, and

how much did you sell it for?
A. When I was planning on opening my store I was buying everything and anything. I bought a room for a $125 mostly trash bags full of clothes. While going through the bags, I found a signed copy of The Beautiful and the Damned by F. Scott Fitzgerald. It was signed and I sold it for $4,000.
Q. What is the most you've ever paid for a storage unit, and was it worth it?
A. It was a huge contractor room for $7,200, and it was definitely worth it. Turned a profit of close to $30,000.
Q. What do you love most about storage auctions?
A. Makes every day feel like it is Christmas morning. Not only is it exciting to open every box and see what's inside, but the whole process of the auction along with selling the items you find.
Q. How is New York City a different animal when it comes to storage auctions?
A. In NYC, buying storage rooms is a whole different game then in other states or cities. I have traveled to Connecticut, Pennsylvania, and other states to buy before. Most other storage facilities have "all outside rooms." In NYC you get the occasional outside one.
Most facilities are 8-9 floor buildings packed to the ceiling. Even in front of these storage places you cannot park a noncommercial vehicle to load or unload. Parking and loading is a game all on its own. If there is no drive in, you pretty much have to use the cart system down the block.
The regular buyers in NYC are fierce! If you are not a local or a rookie; come into this business and try and throw your weight around, you will learn a lesson the hard way, that's for sure. Money wise that is. Our expenses are much greater than L.A. and Texas, so we as a group need to make and spend a lot more $$$.
Storage Wars: New York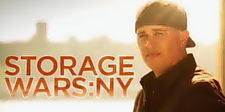 Q. How did you get cast for the show?
A. I was posting ads on Craigslist, offering to do estate buy-outs when I got a phone call. They asked me if I did storage auctions. I was like, "Yea, 95% of my shop is from auctions". One thing led to another, and here I am.
Q. What was your family's reaction when they saw you on that first episode?
A. It was awesome! Especially my two youngest children seeing me on television. They thought it was the best thing in the world.
Q. Describe the cast:
A.

John Luke: No nonsense auctioneer and one of the best I have seen in the Tri State.

Joe P: Although I may get in to it with him, he definitely knows the biz and is called "A Legend" for a reason. (Even though his reign on top will be short lived as long as I'm around.)
Courtney & Candy: Other than fashion and vintage garbage, they have no clue about auction buying. They get an "A" for effort.

Chris & Tad: Tad is definitely the level-headed one out of the two. I do feel they are scared to take risks when it comes to buying rooms. I will give them credit for the way they up-cycle furniture. That's about it. In my opinion, DottieB. has more brains buying rooms.
Q. How long does it take to film one episode with all the cast – including the auction itself, the interviews, and the appraisals of items?
A. All depends on where we are. Average 2 days.
Q. What surprised you most about being on a television show?
A. I'm a New Yorker. Nothing really surprises me.
Q. What would surprise us to know about any of your cast mates?
A. Honestly, I can't stand any of them, so I try and keep my distance by all means necessary.
Q. Who is your biggest competitor on the show?
A. They are all my competition. It really all depends on the day and what I am looking for. I can sell all types of items. The other buyers tend to focus on certain key things all of the time. This is the thing that makes me different from all of the rest.
Q. Are there any pranks pulled on the show by the cast?
A. You need to watch the show and see!
Q. What makes this cast special as compared to the original Storage Wars or Storage Wars: Texas cast?
A. In my opinion every Storage Wars buyer from California to Texas and New York are all different. I wouldn't say one group is better than the other. We all come from different lifestyles and have different ways of dealing with the biz.
The way I look at myself is either you love me or hate me. There is no in between for me. I am a straight shooter and what you see on the show is the same thing you see in person.
Q. How has the show changed your life?
A. Honestly it hasn't changed much of anything. I am still a full-time auction buyer that has a wife and three kids to support.
Mike is a social network maniac. He will talk to anybody and everybody. Please "Like" his Facebook fan page at NY Storage King: http://www.facebook.com/newyorkstorageking. You may also "Follow" him on Twitter: @nystorageking.
Q. Speaking of your wife, how long have you been married and how did you

two meet?
A. I have been with my wife Toni Ann for over 15 years. Not only is she my wife, but my best friend as well. We met through mutual friends.
Q. And your kids?
A. Two girls and one boy; ages 13, 6, and 4.
Q. You come from an American Italian family. What was it like growing up?
A. I wouldn't say my up bringing was all the best. Maybe down the line I will tell you more.
Q. Do you have any hobbies?
A. Fishing and spending time with the family.
Q. What is your best attribute?
A. Being able to turn nothing into something.
Q. What is your worst attribute?
A. Got a bit of a temper and take things way to personal sometimes.
Q. What's on your bucket list?

A. Shark diving and sky diving.
Q. What did you dream of becoming when you were a little kid?
A. Honestly never really thought about that much. All I knew was the way I was raised that you need to bring in money to survive.
Q. What is your life's motto?
A.
No matter what you do or try in life – never, ever give up.

If you put your mind to something, do not let anybody tell you that you can't do whatever you want.
Mike Braiotta may have struggled throughout his life, but he kept on fighting, never giving in to any adversity to make something of out of nothing.  He's a celebrity and that' s saying something.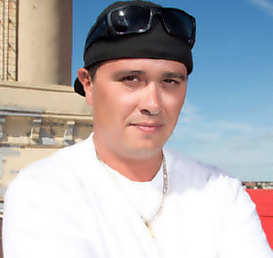 "Remember you can be big and tough all you want, but if you have zero heart it means nothing!"
Mike, you do indeed have a BIG heart.
Please leave your thoughtful opinion about Mike's interview in the comment box below.  Want to ask Mike a question yourself? He's a regular on our forum. Click here to visit his page.