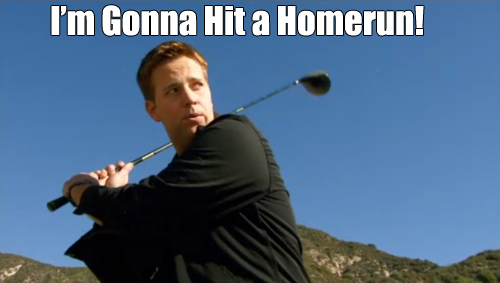 Auction Hunters: Season 3, Episode 11: "Allen's Got Balls."
Haff-Ton team drove to Panorama City, California; hub of the San Fernando Valley auction scene.
Fact: Panorama City is a district in the San Fernando Valley, just north of Los Angeles.
Competition fierce.
Fact: Panorama City was once the home to a GM assembly plant and a Schlitz brewery.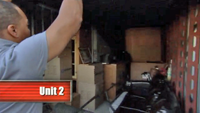 Golf Unit
Antique cabinet, big screen TV, antique golf bags, golf balls, stools, and boxes. Duo won the unit for $900.
Allen and Ton found an antique exercise bike with Pittsburgh Steelers' logo. Allen mentioned that bike constructed of Pittsburg steel before the team had adopted the logo.
Fact: The Pittsburgh Steelers adopted the U.S. Steel logo in the 1962 N.F.L. season.
Allen found an Arnold Palmer putter plus a Walter Hagen gold club that dated back to the 1900s. Vehicle of the day was a golf cart picker.
Fact: Hagen won 11 major titles, third all-time behind Jack Nicklaus and Tiger Woods.
Ton pulled a couch and an armoire out of the storage unit. Allen liked the armoire. Ton called it trash.
Furniture piece became trash once Jones drove the golf cart picker right through the furniture.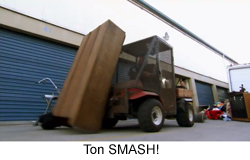 Allen and Ton had the golf picker cart appraised by Ron, a golf pro. Cart dated back to 1975, extremely accurate, and could pick up a hundred balls in one sweep.
Fact: The first driving range, nicknamed 'Maniac Hill', opened in North Carolina in 1913.
Problems with the golf picker cart.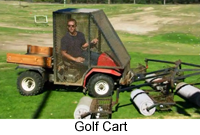 Gaps in the cage could allow a golf ball to hit the driver. Mechanism that picked up the golf balls rusted and would need to be replaced. Time for a test drive.
Fact: The world's largest driving range, in Tokyo, is 3 stories tall, with 300 tees.
Allen drove around the driving range. Ron and Ton both grabbed a golf club and hit a few rounds.
Sold for $5,000.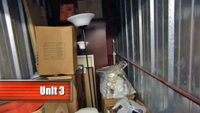 Tool Unit
Carpet cleaner, tools, lamp, furniture, trash can, and boxes. Duo won the storage unit for $1,000.
Ton found boxes of pots and pans. Big whoop! Allen found a European backpack with external frame.
Fact: External frame backpacks are common in the military and among mountain climbers.
Looky, looky… Ton found a European rifled barrel gun. Unique weapon with the hammer at the bottom to protect the charge from bad weather.
Fact: 'Rifled' barrels contain grooves that improve the accuracy of a gun.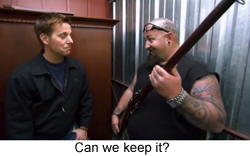 Jo, an antique weapons expert, appraised the rifle. He stated it was an 1855 Kammerlader rifle made for the Swedish Navy.
Kammerlader rifles were imported into the US for big game hunting.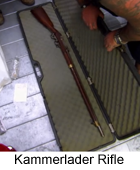 Fact: The earliest Kammerlader rifles fired massive .69 caliber rounds.
Kammerlader range at 1,000 yards with accuracy.
Fact: At an 1861 competition in Belgium, the Kammerlader was accurate up to 1 km.
Did it work? Ton's target – a prop zombie target.
Steady.
Aim.
Kill shot!
Wait – zombies are dead…
Sold for $2,200.
Golf and guns. A man's perfect day.
Auction Total:
Paid $1,950
Sold: $10,050
Profit: $8,100
Do you play golf?
Please post your insightful and thoughtful opinions in the comment box below.