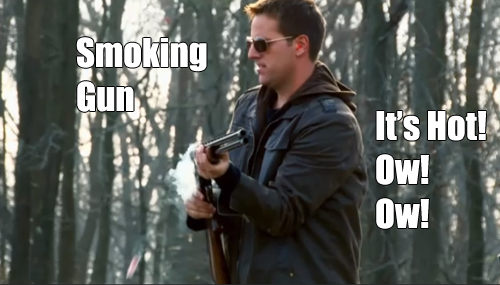 Auction Hunters: Season 3, Episode 10: "The Jersey Score."
Haff-Ton team drove to North Brunswick, New Jersey. Home of Bruce Springsteen, Jon Bon Jovi, and The Sopranos.
Fact: Bruce "The Boss" Springsteen was born in Long Branch, NJ in 1949.
Allen and Ton attended a silent auction. Big crowd, big spenders, and expensive cars. One bid per unit only.
Fact: New Jersey has over 1100 residents per square mile.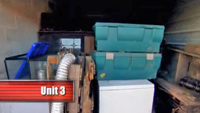 Antique Unit
Antique sewing machine, shoe shine box, mattresses, antique cabinet, washer, dryer, and buckets. Haff-Ton team won at $801.
Fact: Shoe shines gained popularity in the 1800s, as leather shoes became affordable.
Shoe shine box dated back to the 1800s. It needed a little TLC. Allen, quite an antique collector himself, confident he could restore it.
Fact: Radio host Rush Limbaugh and singer James Brown were both once shoe shiners.
Allen and Ton found an enclosed carriage. Interior still in good condition. Original tires with the rubber a bit degraded.
Fact: Additives to prevent rubber from cracking weren't available until the mid-1930s.
Duo pulled the antique vehicle, as it were, out of the storage unit.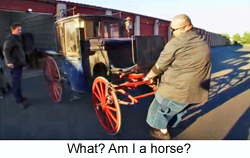 Appraiser was Jerry, an antique carriage expert in Central Park.
Fact: Central Park was officially completed in 1873, on 843 acres of public lands.
Jerry noticed that the carriage was made by the Brewster Company.  Style of carriage called a brougham.
Fact: A brougham is an enclosed, two-door horse drawn carriage from the 1800s.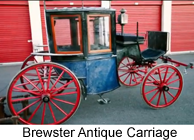 Carriage dated back to 1903 and intended for use by wealthy gentleman.
Fact: Brewster's clients included J.P. Morgan, the Rockefellers, and the Vanderbilts.
Lamps did not look original. Jerry interested, but he had to test it with horses. Jerry harnessed his horses, Dixie and Daisy, to the brougham carriage.
Structure sound. Sold for $5,500!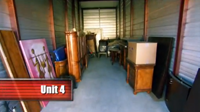 Furniture Unit
Professionally wrapped furniture, bedroom set, chairs, lamp, painting, tools, and boxes. Haff-Ton team won at $701.
Allen found an antique Underwood typewriter in mint condition with all the original paperwork.
Fact: The first typewritten manuscript was Mark Twain's The Adventures of Tom Sawyer.
Allen retrieved a RCA radio microphone from the 1940s.
Fact: Thomas Edison was awarded the first patent for a microphone in 1877.
Guys found two-clay pigeon throwers for skeet shooting. Off to meet Angelo, a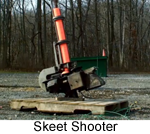 skeet specialist.
Fact: Skeet shooting was invented by a Massachusetts bird hunter in 1920.
Angelo stated the two-clay pigeon throwers were the original, automatic skeet machines. Thrower could hold up to 75 targets. Height and distance could be adjusted. Multiple targets could be thrown at a time.
Fact: Skeet shooting officially became an Olympic sport in 1968.
Skeet throwing machines currently still use the same principle technology.
Fact: "Skeet" was the winning entry in a 1926 magazine contest to name the new sport.
But did it work? Big money or big paper weights. Allen cranked the machine. Nothing. Tried again. Victory!
Allen and Ton shot clay targets with ease.
Sold at $1,500.
Duo ended the day with hotdogs and a nap.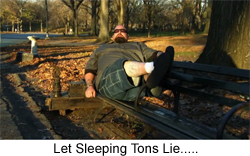 Auction Total:
Paid $1502
Sold: $9,860
Profit: $8,350
Have you ever been skeet shooting?
Please post your insightful and thoughtful opinions in the comment box below.