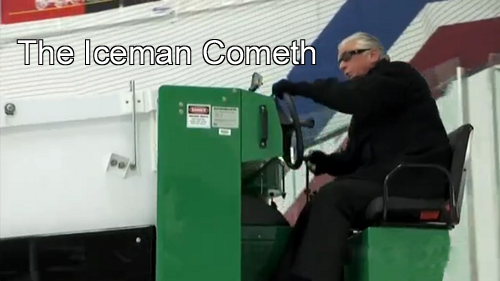 Barry'd Treasure: Season 1, Episode 3: "Big Vice Country."
Barry was in Denver, Colorado. His companion for this trip was John. Barry owed John a favor for helping him win a Halloween costume.
John wanted extreme adventure on this trip. Barry would deliver.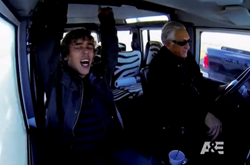 The Collector
Barry went to meet Bill, a collector of Victorian vice. Advertisements for tobacco, liquor, and gambling items. One little collectible figurine made of brass could open her dress. Barry called her a "European Naughty."
Bill had his eye on three vintage ads owned by Don who lived in Montana. He was a hard sale to part with his collection. Top price Bill was willing to pay was $25,000. Barry had his work cut out for him.
If Barry was successful, he would keep the "naughty."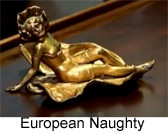 The Hunt
Barry spotted a ranch not far out of town. They stopped to give John a ride on a horse.
Barry: I promised Johnny a ride on a horse. And when I make a promise, I capital D-eliver.
The ranch operated by Jesse and Chelsey, true rodeo folk. It just so happened they had a rodeo to attend up in Montana. Barry offered them a ride.
Who could say "No" to Barry?
Conversation during the drive about the vehicles Barry has had the pleasure to drive. A tractor. Semi-truck. But not a Zamboni. Barry realized this lapse on his driving resume. Today they would stop at an ice rink.
Barry's new mission – drive a Zamboni on ice. Everyone had fun at the ice rink, even John who could skate very well. Time for fun and games to end. Hit the road again. Barry drove his borrowed Land Rover into a snow bank. "The Collector" literally hit the snow. John suggested they use his skateboard on the back wheel for traction. It worked!
Rodeo folk thought Barry could use a makeover once they arrived in Montana. He was not dressed in "Cowboy" style. Barry bought a few western themed clothes to fit in at the rodeo.
Barry: I got Jesse here on the rodeo, and most importantly, I did it in style.

If only it looked like regular cowboy clothes, but you know Barry. He went way-out-there-eccentric. He said his goodbyes to Chelsey and Jesse after a day at the rodeo.
Enough distractions. Time to make a deal. Off to finally meet Don.
The Collector
Don had forgotten all his appointment with Barry. The girl friend said Don was gopher hunting… wait, that's a thing? She took Barry and John and yep, he was shooting gophers.
Barry: First step in this negotiation: don't get shot!

Wise move!
Don took Barry to look at his vintage ads. Barry picked the three Bill wanted and Don was not too happy. At first Barry tried to play it cool, but the negotiations were at a standstill. Barry decided to level with him.
Barry: Obviously my best strategy here is no strategy. I'm coming clean.
Don didn't like Bill. He felt like he did all the work and collectors such as Bill just sat back and bought all the good stuff from him. He asked $31,500 for the ads.
Barry said Bill should get a loyalty discount at $25,000. Don reluctantly agreed knowing Bill would come back again for another piece. Done deal!
One "European Naughty" for Barry!
Please leave your insightful opinions in the comment box below.