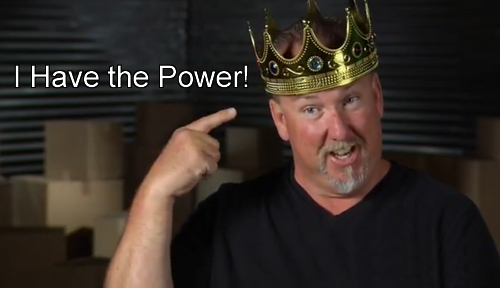 Storage Wars: Season 5, Episode 5: "The Return of the King of Montebello."
Ivy hired someone to manage his store. Less stress he thought as he bought storage units. Rene not pleased to return to the same facility where his hired help backed his truck into a gate. Darrell proclaimed himself "King of Montebello." Yes, he even wore a crown.
Brandi arrived solo. She drove her own truck. Now that was sexy! Jarrod arrived with his own truck for the Long Beach store. Two trucks. Same family. Not practical, but fun to watch.
Princess House crystal boxes, containers, plastic bags. Everyone bid on the locker, but Rene won it for $725.
The Princess House boxes all had crystal inside. Rene found stilettos and fancy underwear in another box. Don't ask, we're not.
Rene got very excited when he discovered a stripper pole.
Rene: Whatever we have to endure to find out what this is worth; I think we'll just have to suffer through it.
Rene wanted to go to a stripper club for appraisal. Over Casey's dead body. They went to a dance studio instead. The instructor showed them how to put it together and taught Casey a few dance, pole moves. Best unit ever for Rene.
The pole was only worth $200-$300. Rene decided they'd just keep it. Wishful thinking, German.
Office chair, DVDs, leather suitcase, plastic containers, play mobile, Star Wars toys, Legos, toy car, and action figures. Rene and Darrell once again bid war but it was "King Darrell" who won it for $2,800.
This was a nerd haven locker. A Batmobile car toy, a Phanto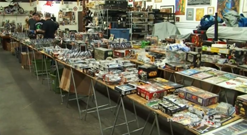 m car, tons of Star Wars toys and actions figures of Andre the Giant, Rob Zombie, Hulk, Spiderman, Captain America, and Thor. Plus a ton of comic books. Like I said, Nerd Haven.
Darrell set up all the toys in his warehouse on a forty-foot table.  He had a toy expert come to look at everything. All told, the toys and comics were appraised at  $40,000.
Wow!
Darrell: Now I'm the king of Montebello and Toy Land!
Leather couch, cooler, purse, heater, spade, tool box, speakers, propane fuel, and air conditioner. Brandi really wanted this unit. So did Ivy. But a phone call from his new employee distracted Ivy. Brandi won the locker for $900.
Jarrod might not have liked the unit, but he happily helped Brandi sort through it. Now that's love or an irritation. You decide.
The couple found a radio, a raft, an outdoor cooker, survival food, and a stuffed animal of a monkey. Inside a plastic container, Brandi found a deer's head, some chicken bones, and weird voodoo items. Creepy!
Brandi wondered if maybe the items had been used for sacrificing virgins.
Jarrod: I feel like that's kind of a waste.
Jarrod and Brandi took the most intere

sting of the voodoo items to a specialist. He told them it was from New Guinea and that it was a sacred flute. When the sound came out of the flute, it was believed it was the voice of an ancestral spirit.
While some similar pieces had been sold in the past for as much as much as $2 million; this piece was more of a souvenir valued at $150.
Profit Scorecard:
Darrell Sheets: $37,000
Ivy Calvin: $0
Jarrod Schulz & Brandi Passante: LOSS -$180
Rene Nezhoda & Casey Nezhoda: LOSS -$345
Do you think Brandi and Jarrod would do better to combine forces?
Please leave your insightful opinions in the comment box below.