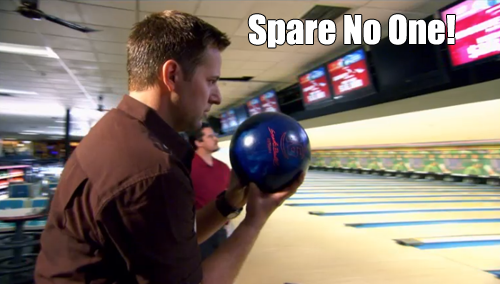 Auction Hunters: Season 3, Episode 8: "Bowling Pin Payday."
Haff-Ton team drove to Moreno Valley, California. Rain, rain, go away… but the duo have an auction to go to today.
Fact: The U.S. military trained fighter pilots in this Southern California valley during WWI.
Moreno Valley was Ton's old haunt. He learned the tricks of the trade here in his early auction hunting days. Back to prove himself and his skills.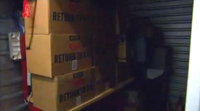 Fencing Mask Unit
Dryer, tool chest, fencing mask, and boxes. Duo won the locker for $1,000.
Allen found a Blue Ball jar. Lid was still in one piece.
Fact: Blue Ball jars block particular light rays that can affect a food's flavor.
Haff also discovered a NASA Apollo 12 commemorative coin.
Fact: Apollo 12 was the second U.S. manned spacecraft to land on the moon in 1969.
Ton unpacked a cutlass (sword).
Fact: A cutlass is a short, broad saber, first used by 17th century sailors and pirates.
Duo confused when they noticed the cutlass had an attachment mechanism like a bayonet.
Ton opened a case and found a rifle that attached to the saber. Duo speculated the cutlass-rifle was mid-18th century.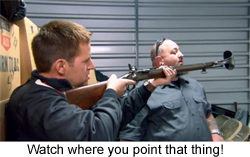 Haff-Ton took the antique gun to Blaze, gun expert, who stated the rifle dated back to 1860's. It had been used by the Navy. Rifle had originally been a muzzleloader.
Fact: As muzzleloader is a firearm that uses black powder; or cap and ball ammunition.
Muzzleloaders took a minute to load four rounds, IF you were fast. This one had a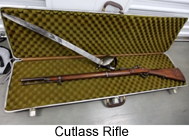 breach loader, designed by Snider. Made it much quicker to load. This was an early version of the bolt action rifle.
Fact: Snider-Enfield rifles use a massive .577 round favored by rhino and elephant hunters.
Blaze offered to pay $3,000 if it fired; $2,500 if it didn't.
Ton loaded rifle. Aimed. Fire. Bull's-eye!
Sold!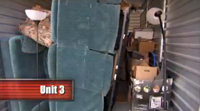 Printing Press Unit
Furniture, chairs, pillows, lamps, printing press, American flag, trunk, wheel chair, and boxes. Allen distracted another bidder with trash talk while Ton won the unit for $225. Well played.
Haff-Ton team had to move out the couches before they could get to the press.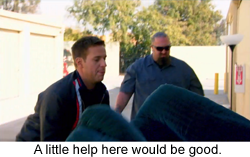 Couches cleared. But it wasn't a press. It took a few minutes before they spotted a Brunswick sticker.
Fact: Brunswick manufactures everything from billiard and bowling gear to bikes and yachts.
Bowling pin setter from the 1960's. Also found bowling balls and pins. Worst case scenario, they could always sell for parts.
Fact: The mechanical pinsetter was invented by Brunswick's competitor, AMF, in 1936.
Ton stumbled upon a penny press.
Fact: The first penny press debuted at the 1893 World's Fair in Chicago.
Fully mechanical with engraving plates. Anything could be stamped on a cent.
Fact: Mutilating U.S. currency is legal, as long as the intent is not to commit fraud.
Allen put up an ad for the pin setter. Found a buyer interested. Took mechanical pin setter to Mike, a bowling alley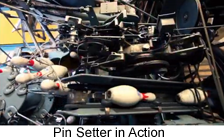 owner.
Mike explained that very little had been changed in the designs of pin setters since they were first invented.
Fact: The teenage workers who reset the pints by hand were called "pin monkeys"
This machine could set up pins in 5 to 6 seconds. Mike was interested, but did it work?
Fact: Ancient Egyptians played early forms of bowling over 5,500 years ago.
Mike installed the pin setter onto one of the lanes. Allen flipped the power. Concern – parts might overheat. No deal until the three men bowled a game.
Fact: A "perfect game" in bowling is 12 strikes in a row, resulting in a score of 300.
Allen's game amateur. Ton would do a bowling team proud. Mike, strike after strike. Good news – no overheating on machine.
Fact: Parker Bohn III has rolled 85 perfect games in his 24 seasons as a pro.
Mike offered $3,500 for the pin setter. Allen made a deal. If he could bowl a strike, Mike would pay $4,000. If he missed, the price would only be $3,200. Mike agreed.
Allen poised.
Deep breath.
Release.
STRIKE!
Bowling for profit.
Auction Total:
Paid $1,225
Sold: $9,130
Profit: $7,905
Please post your thoughtful opinions in the comment box below.