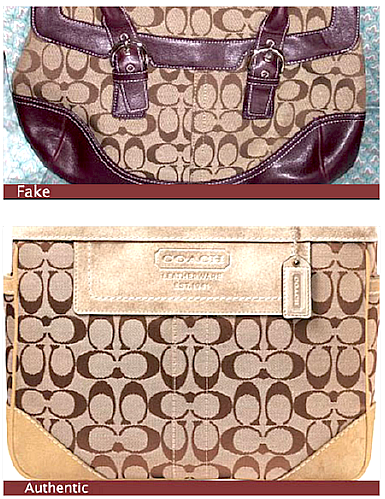 It's not uncommon to find designer merchandise inside a storage unit. However, before you Snoopy dance after you've opened a box full of Louis Vuitton handbags, make sure they're real deal.
Counterfeits accounts for almost 10% of the world trade.
That's simply unbelievable! Knock-offs in fashion will be in apparel, sunglasses, watches, handbags and head wear.
Once you've learn to spot what's fake, you'll know if the items in your storage unit hit the runway or belong in the alleyway.
Candy Olsen and Courtney Wagner from Storage Wars: New York can spot a knock-off in a ginger snap! They're fashionistas by nature and if they see a handbag inside a storage unit, they can tell if it's fake or real.
But can you?
Easy way to spot knock-offs on apparel and handbags is that the stitching should be perfectly even without any loose threads. Metal accents like zippers should be heavy not lightweight.
If it's leather then it will feel dry to the touch, not sticky or oily. Watch for misspellings of the brand name or skewed logos. A well-made expensive watch is heavy when you hold it.
A few name brand characteristics to look for:
Louis Vuitton – Zippers must be stamped with logo or insignia. The "O" in logo is not oval but perfectly round. Seams match up evenly on both sides of bag. LV logo is never broken on any seam or cut. Date stamped somewhere in the interior.
Marc Jacobs – Zipper embossed with either RiRi or Lampo zippers. If the letter "i" does not look like this:  \ but is a regular "i" on RiRi, then it's a fake. At the bottom of the zipper you will find a number below the brand name.
Coach – The C's should be lined up perfectly to the center of the bag. Should look like C's not G's. Signature logo for Coach is two C's next to each other in doubles. The "Coach" tag matches the trim of the bag and the letters should be raised not imprinted.
Rolex – Ticks at around 5-6 times per second, which gives the illusion of a "sweeping" or "floating" second hand around the dial. Knock-offs tick at 3 to 4 times per second.
It's impossible to list every single designer brand and its characteristics. However for there is one true indicator for just about everything.
If the materials feel cheap, the color looks weak, and the hardware (metals) are lightweight…
It's probably a knock-off.
Please leave your creative comments in the box below.