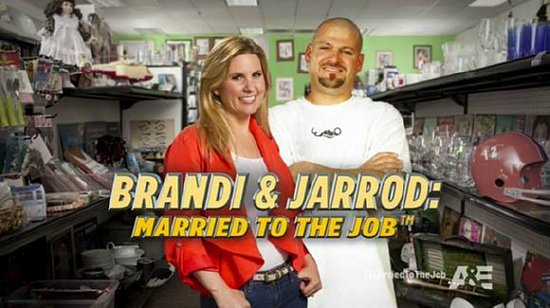 Storage Wars star couple Brandi Passante and Jarrod Schulz return in A&E's Married to the Job.
Their new full-fledged spinoff premiers on August 12th at 10PM ET/PT. That's immediately following the season premier Storage Wars season 6 which features the return of the infamous villain, Dave Hester.
That will be one power-packed, in-your-face, night of reality TV… and then whatever Hester will bring back to the show. Come on, you know you loved the bickering of Brandi and Jarrod. Their fun antics override any pukedom spouted by Hester.
Married to the Job special aired on April 22nd which gave the audience a backstage pass of Brandi and Jarrod's lives outside the storage locker auctions. Life at home as they raise their two kids. How the star couple copes with family and manages their consignment store in Orange County, California.
What we did learned from that special was that Brandi actually has three children:
Son – Cameron
Daughter – Payton
Grown-up Child Mate – Jarrod
Cameron struggled with algebra.
Jarrod had a month-long birthday celebration.
Payton cleaned toilets at the Now and Then store.
Note: No child labor laws were broken since Payton wasn't paid a dime for her services.
In a recent Storage Wars episode of season 5, "It's Bring Your Kids to Work Day,"  Jarrod and Brandi brought Cameron and Payton to the storage auction.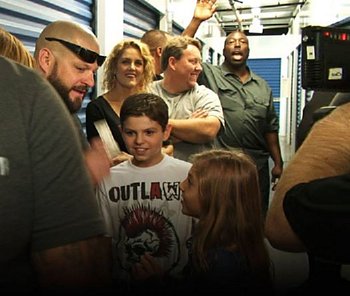 Was this a move to have the kids adjust to rolling cameras all around them? Cameron and Patyon also accompanied their parents to get an item appraised. Science item. Hopefully the kids didn't learn how to blow up the house.

As we watched the Schulz family reunited on Storage Wars; it fed our voyeuristic urge to watch the star couple under a microscope.
Now A&E will capitalize on our stalk-ish behavior via a full-fledge season of Married to the Job. Stay tuned August 12th at 10PM ET/PT on A&E TV.
Will you be watching the new spinoff starring the Schulz family?
Please leave your insightful opinion in the box below.