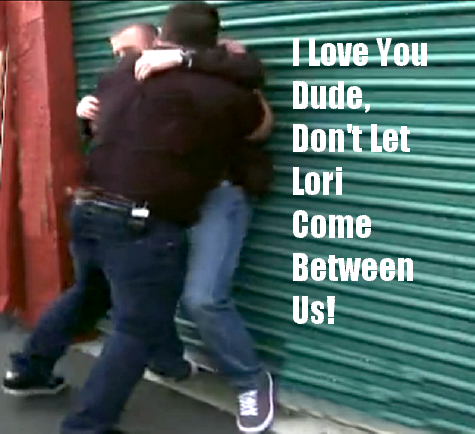 Storage Hunters: Season 1, Episode 2: "Bloody Battles."
Brandon and Lori Bernier play it smart. Before they attend storage auctions they research who rented the locker, what they did for a living, and where they lived. Rest of the cast, nothing to write home about.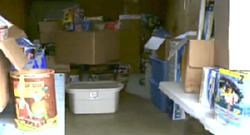 1st Storage Unit
Boxes full of toys, though boxes not in the best shape. Doesn't mean the toys were not collectible. Jesse knew Berniers did their research, so if they're interested, so was he.
Berniers vs. Jesse, bid shot up quick but it was the Berniers for the win at $900.
Unlike other reality storage auction shows the winners immediately enter their storage units. Berniers found a Fran Dresher talking doll (big whoop), baseball signed by Alan Thicke (another big whoop), few vintage toys, comic books, and a genuine Lionel train (now that's a whoop!).

Also unlike other storage auction reality shows the auction hunters do their own appraisals. Lionel train made of enamel. Placard underneath train displayed the full "Lionel" name instead of just the "L" which predates train before 1940s. Mint condition and original valued at $800-$1,000.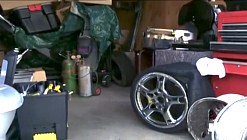 2nd Storage Unit
Tires, table saw, rims, and tons of tools. Lots of "ooohs," and "aahs" for this locker.
Berniers were out because owner went jail. The couple worried if items inside the locker might be stolen goods. No one else shared their concern.
Sean the Auctioneer: If you're looking to open up your own NASCAR pit stop, this is your chance.
Sean started the bid at $800… Ka-Chow! But this locker was Jesse's all the way at $2,300.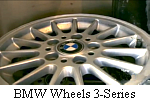 Jesse dug through the unit with Sean (that's different to have auctioneer enter the locker). They found four BMW rims, late 90s 3-series, estimated valued at around $500. Four vanity wheels maybe at $200-$300. Craftsman big red tool cabinet and miscellaneous car items. Sean quipped items might have belonged to a chop shop. Ya, think? Did Fonzie-Jesse care? Uh, no.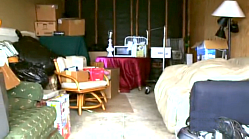 3rd Storage Unit
Stank! Crowd covered their noses, it was that bad.
Furniture, fans, small appliances, boxes, and miscellaneous household goods, but it all stank! That turned away a lot of bidders.
Sean begged people to bid. He got one bid at $25 but it was Brandon who won at $50. Inside the unit he found a classic "Pong" game worth at least $280.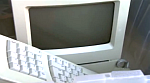 The highly collectible item however was a first generation Mac computer. The back label on the computer mouse read M0100 which classified this as one of the first Macs in production. With computer, mouse and keyboard, rare to find complete set, valued at $500.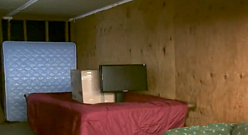 4th Storage Unit
Pool tabled covered by a cloth, mattress, flat-screen TV, boxes, table, and a chair. Pretty sparse for a big locker. Berniers were out because of the cost to move the pool table, but that didn't scare Papa Bear.
Lori: Papa Bear he's like a wild card. He'll bid on anything at anytime.

Papa Bear won the locker for $2,600. The pool table was made of solid wood, which was a good sign, but it was also HEAVY. Papa Bear drove to the auction in his '51 Plymouth. Hmmm, how is he going to fit that pool table into his car. Papa Bear said he jumped the gun on that one. Doh.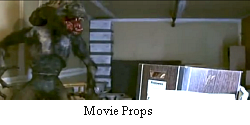 5th Storage Unit
Low budget film director owned the locker. Huge alien prop, movie props, boxes, and filing cabinet. Brandon decided to spook Jesse by nagging him to bid. The Fronze was not amused. Bid war and in-your-face battle escalated. Brandon did distract Jesse enough to win the locker at $3,100.
Jesse called Lori a (bleep). Staff had to immediately intervene, separated the two men. Jesse said he was fine but then charged toward Brandon.
FIGHT! FIGHT! FIGHT!
Brandon: My plan worked, but I'm not letting anyone disrespect my wife.
Jesse shoved Brandon against the door of a locker. Took a couple of staff members to pry the two hot-heads apart. Jesse spouted a few choice metaphors then eased off.
This show is definitely not Storage Wars…
Brandon and Lori dug through unit. Camera cases were empty. Filing cabinet, empty. Lori found a canvas bag. Inside a Sony HD camera, newer model, estimated value at $4,000. Also found audio equipment valued at $3,000.

Berniers took the alien prop for appraisal at a prop shop. Alien prop was from the second Alien movie. It's not the mold for the prop, but the core of the alien suit, which goes inside the mold. The prop was devalued because it had been altered from its original form. Appraised at $2,000.
Profit Scorecard:
Brandon & Lori: $5,080
Jesse McClure: $1,000+
Papa Bear: ?
Do you think the fight was real or staged beforehand?
Let us know what you thought of this reality show compared to other storage auction reality shows in the comment box below.