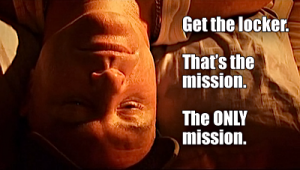 Welcome to the Jungle.
Storage Wars: Canada: Season 1, Episode 15: "A-locker-lypse Now."
Don was back! His return, coupled with a potentially steady stream of  good lockers, offered our players another chance at redemption.
Roy was in full fatigues and ready for his next mission: Buy up all the good units… with extreme prejudice.
And lots of money.
Paul and Bogart had been working hard at the store. But the boys needed toys… and collectibles… and stuff that was easy to move.
Ursula had good luck selling household appliances. She was on high alert to pick up lockers which could feed her wallet. And her shoe collection.
Cindy and Rick were ready to get aggressive. If it came down to bigger bidding wars?  Then so be it.
When Roy showed up in his fatigues, the others were a little unsure how to handle him.
Paul: Looks like 'Officer Ego' has finally cracked.
Every man has his breaking point. Had Roy ultimately met his?
A nice household unit, which the owners took the time to pack nicely. Always a good sign.
This was right up Ursula's alley. And Paul and Bogart's. And Roy's.
Maybe. It was hard to tell what Roy was thinking behind those military–styled shades.
Roy scouted out the unit, looking for possible signs of monetary potential.
Roy: In war, you always have to be one step ahead of your enemy. Luckily, my enemies are pretty stupid.
The bids went fast and furious. Roy hit Paul and Bogart with chaos and confusion, upping the bid to $1,000… before dropping the unit on Paul.
Paul: I THINK I won.
Roy: You're never getting that (money) back. Your money is GONE.
Paul and Bogart dug through this booby-trap and found some videotapes, toys, and kids clothes.  It was a worn torn wasteland of complete crap.
Roy's military mind game was proving effective.
But then Paul and Bogie found a tennis ball shooter-outer thing. Maybe it was worth some dollars?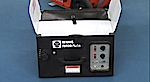 Bogart: If it's a dud?  Then we got SERVED.
They took their ball machine to the local tennis club. The resident club Pro challenged Paul and Bogart to see how they'd do against the machine they brought him. The results?
Tennis Club Pro: Balls are supposed to go OVER the net!
After their amazing display of tennis talent, the Pro let the boys know the ball machine was worth in the neighborhood of $650.
Paul: Advantage: Kennys!
Paintings, furniture and power tools. But it was all thrown in a jumble. Was there pay dirt inside? Ursula seemed to think so. So did Rick and Cindy.
The bid opened up and Rick was strong out of the gate. After some back n' forth with Ursula, Cindy nabbed it for $425
However, Roy remained silent and steady throughout.
Ursula asked him why he had decided to dress this way. Roy didn't even look her way…
Roy: This mission is classified.
Damn. Cold blooded. Roy had gone down river and there was no turning back.
Meanwhile, Cindy and Rick quickly unloaded their locker and brought the stuff to the PATIO SALE they were holding outside their store.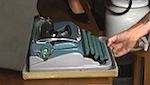 They employed a little 'guerilla warfare' to their sales tactics and killed it, making $1,125 off sales of their locker's items!
Cindy: We cleaned up!
Call her 'Mrs. Clean'.
A single guy locker, filled with quality stuff.  Cindy was intrigued.
But Roy had infiltrated behind enemy lines, found his target… and was ready to instigate Operation: Domination.
Roy: I'm bringing her (the locker) home safe.
It was the end for his beautiful friends, as Roy sidelined everyone with a $2,300 bid.  Target acquired.  Target hit.
Roy: Mission accomplished!
Roy found a huge LED flat screen, which was an easy $1,000. Between that and the other good stuff he dug out, Roy already had his investment covered.
Roy: I love the smell of money in the morning!
But it was a fleet of cool remote controlled cars that had him wondering exactly how much $$$ he'd ultimately make from this mission.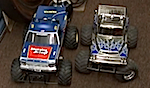 He took them to an RC expert, who let Roy know he had almost $1,500 worth of good RC cars.
Roy decided against giving the $500 RC car to his nephew. So instead, the little tyke will be getting socks this Christmas.
The horror.
The horror.
Meanwhile, Ursula left the auction without a locker. Again.  The bids went too high too fast. It just wasn't her day.
Roy: War is Hell!
PROFIT SCORECARD:
Roy Dirnbeck: $1,490
Rick Coffill & Cindy Hayden: $700
Paul Kenny & Bogart Kenny: $100
Ursula Stolf: $0
Roy's crazy tactics really threw the others this time. What tricks have you ever employed to confuse the enemy?
Please leave your creative comments in the box below.