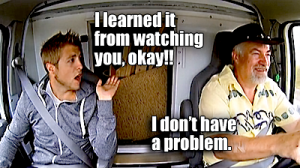 Storage Wars: Canada: Season 1, Episode 19: "Com-Paul-sive Behaviour."
The auction was held in Wasaga Beach, which has the largest fresh water beach in the world. Rich homes usually equal rich storage units.
Rick and Cindy talked about what it takes to stay in the game. They've seen people spend too much too fast and end up in bankruptcy.
Paul was really eager to buy. Bogart pointed out they still had to store all the crap they've gotten from storage lockers…in MORE storage lockers. He seemed worried about his pops.
Bogart: I think my dad is addicted to buying lockers.
Ursula admitted she NEEDED a good locker. She said the rush on closing the bid and slamming that locker door was pretty awesome indeed.
Ursula: I think that's what I'm addicted to. More than the actual locker itself.
Roy was ready to hand out some bad advice to whomever was buying, and today he could tell Paul was in a frenzy mood. He suggested that Paul to buy, buy, BUY.
Rick tried to keep Paul away from such a bad influence.
Rick: I've seen a lot of buyers go down this road. It's never pretty.
Paul got a fever. And the only prescription was 'More Locker".
Games and tools. Whatever. Nothing really jumped out.
But that didn't stop Paul. He was ready to throw down $500 right off the bat.
Bogart talked his dad down off the ledge, which gave Roy the opportunity to grab this unit for $850.
Roy: That felt gooooood. (to Paul) Don't you wish you could try that?
Inside, Roy found a few gold pieces and a really nice hockey net. It was definitely worth getting checked out. So he took it to an ice rink where women's Olympic medalist, Sami Jo Small helped him appraise it.
She told him it was only worth $100. So Roy asked if she would sign it, thus jacking its worth up a couple hundred bucks, (since it had her autograph).
Sami agreed… if Roy would play goalie for her and the other women hockey players.
Roy: Just you and those girls? Sure. They don't look that tough.
See Roy try to defend goal. See Roy get pummeled with hockey pucks. See Roy try to get out of this ice rink alive.
A WALL of boxes filled with clothes. And mattresses. Eh.
Don was doing his best to entice Ursula, since she had been looking for possible fashion pay dirt.
Ursula: I guess I didn't drive all this way, NOT to shop.
But when the bidding started, you-know-who broke into a sweat.
Paul: I need this fix!
Bogart tried to get his dad to cool it, but as the bids went up… so did Paul's hand.
Luckily, Ursula closed it down, grabbing the unit for $775.
Ursula: Man, that feels good!
But once she got inside and started pulling out all those mattresses…
Ursula: This is as appealing to me as Cindy's wardrobe.
She nabbed a fair amount of name brand ski jackets and ski boots, but it was a portable easel which had her heading to the Toronto School of Art for an appraisal.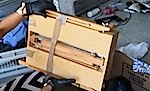 Ursula showed up, fashionable as always, and in the same stripes and scarf as the teacher she needed to show her easel. The teacher told her it was worth about $200.
He then had Ursula paint a 'Still Life of Fruit… with Penis'.
It's a long story. Or is it?  The room was kind of cold.
A big unit, packed to the rafters. But again, nothing seen upfront was looking fantastic. It was a BIG gamble at best.
This one got the thumbs down from both Cindy and Ursula.
But Paul was jonzing by now.
Bogart: You GOTTA be high if you think I'd let you buy this one.
Paul: But this is my last chance!
And as the bid opened up, guess who was there to push an addict headlong into the seventh ring of Hell?
Roy: Is it wrong to bid up an addict?  Probably.
Roy pushed the bid up to $475 and Paul grabbed it. Which was a surprise to…
Bogart: We got that??!! (to Paul) You know what? You have a problem.
When the boys opened it up, Bogart knew they had something on their hands.
And it didn't smell good.
Bogart: Welcome to Paul and Bogart's House of Garbage. How may I help you today?
Bogart felt this was the worst locker they'd ever bought. His dad said they had some good couches and were worth a shot to get checked out.
They loaded up ALL their couches and took them to an antique consignment store run by a friend of Paul's… who took one look at their collection and…
Store Owner: No way.
uh-oh.
Bogart: You can't get any more humiliating than this.
Ah! Ye of little faith, my good Sir Bogart! It most certainly can-eth!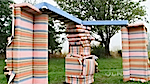 Welcome to Sofahenge! The druids of ye old England would have been most proud-eth of your father's sofa representation of Stonehenge.
PROFIT SCORECARD:
Ursula Stolf: $175
Roy Dirnbeck: $70
Paul Kenny & Bogart Kenny: -$475
Rick Coffill & Cindy Hayden: $0
Paul had a problem saying 'no' to lockers. And it hurt his and Bogie's wallet. Ever have to confront a co-worker about their addiction before they pulled you under?
Please leave your creative comments in the box below.