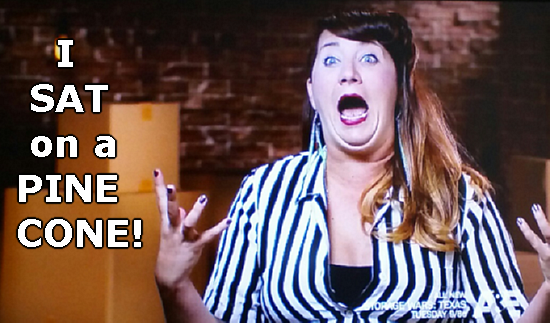 Storage Wars: New York: Season 3, Episode 3: "Auction Hunters."
We're in Amityville – Run! Scream! Okay, that's a bit melodramatic. The location of the auction was at Amityville where they shot the horror movie. Mike freaked when he saw the house where the family uh, oh, just rent the movie. Gah! I think I just got hives.
Mike brought his box truck and pounded his motto for the day, "Go Big or Go Home!" JoeP determined to get out of his slump. Courtney decided to film the day with a small video camera to study their opponents in their natural habitat – that being storage facilities. Candy pointed to the first beast of the day, Mike. Ha! Wonder if he's a mammal, primate or uh, you decide. But as Courtney said, "Be careful not to agitate the gorillas."
Somehow this blog went from horror movie to Tarzan movie in 0-10 seconds.
1st Room
Furniture, chairs, lamp, boxes, chandelier and crates. Big room. JoeP battled with Candy and Courtney. Lionesses won at $1,700.
JoeP: The comeback train was derailed.
Gals found tools in the first two plastic crates. Next crate serving trays. New sewing machine, three vintage lamps, old photographs which had the gals "ooo!"
Courtney: If it's musty and dusty, we're all over it.
Couch, bookshelf, chandelier, end tables, antique sewing machine, and a very old musical instrument. It was dark by the time Candy and Courtney finished unpacking their room. A BLACK CAT screeched.
Candy: It's time to get out of effing Dodge.

The gals took the music box to an appraiser. Actually, it's a Christmas tree stand to hold a feathered Christmas tree (your read that right). Made by Music Schwab back in the 1930s. Valued at $1,200.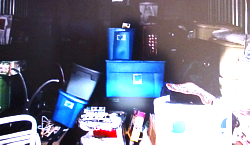 2nd Room
Rubber tubs, gas-powered weed whacker, and miscellaneous items.
Mike: This might be haunted, but I like it. I ain't afraid of no ghost.
Sure, he's not, though I'm not convinced. He did however win at $900. Mike found tiki torches, inflatable mattress, clothes, and uh, he heard weird noises.
What?!
That's right. He heard noises inside the room but no one was around. A yellow toy car moved on its own.
CREEPY!
Mike stated he needed a Priest! Back to the rubber bins and boxes. He found a flat screen TV, gaming chair, Amish-made heaters, and a small black case with half a dozen silver buttons.

Mike took the buttons to appraiser and discovered each button had a hallmark. They were 100% silver. Made around the early 1900s. Most likely belonged to an Italian Nobleman. Valued at $600 for the set.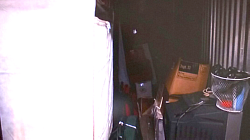 3rd Room
Old television, suitcase, wardrobe canvas, furniture, and boxes. JoeP stealth bid by placing his hand behind his back toward auctioneer John Luke. 'Slump Slayer' bid, as he nicknamed it. Mike was not fooled. JoeP did get out of his slump and won at $500.
First item was a suitcase full of clothes, no surprises there. Household items and some type of golf ball cleaning kit. I know, who knew there was such a thing (other than golfers). JoeP went to a professional golfer to check out his kit and an antique golf ball he found. Rest of the merchandise a bust.

Golf ball cleaner valued at only $20. Uniquely designed golf ball, called a gutta-percha, made by the Henley company in London in the 1880s. Paint in good condition. Valued at $400.
Golf Pro had JoeP tee off. Yeah, he swung but the golf ball went —> that-a-way. Stick to buying rooms, JoeP.
Profit Scorecard:
Candy Olsen and Courtney Wagner: $1,160
Mike Braiotta: $338
JoeP: $285
Who do you think bought the best room of the day?
Please leave your thoughtful opinions in the comment box below.