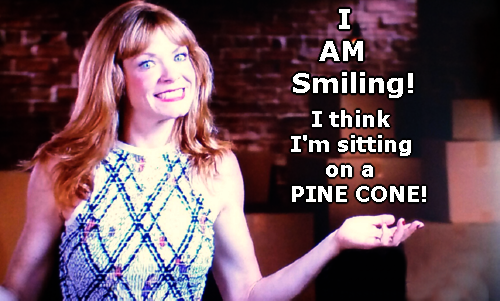 Storage Wars: New York: Season 3, Episode 5: "It Takes a Queen's Village."
Auctioneer John Luke hit the "electric beach" (tanning salon) before auction. Yes, the man is so tanned! JoeP ready for high-end merchandise. Candy and Courtney ready for a big score for their upcoming pop-up sale. Tad and Chris ready for antiques. Mike ready (mentally) to be selective and not get caught in distractions. Big Steve ready for… oh, moving on.
In the parking lot before the auction began, Mike looked over at Courtney and flipped her the bird. She returned the flip. Mike then flipped two birds. Courtney returned the double-flip gesture.
Courtney: I just hope my mother isn't watching this.
Too late. Sorry, Mom.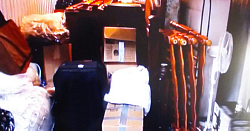 1st Room
Suitcase, bunk bed set, mattresses, table, old television, dressers, recliners, trash bags, and boxes. The only player not interested was Tad.
Tad: The three things I look for – History, Mystery, Dust.
None of that in the storage unit. Candy and Courtney beat the competition and won at $2,500 – highest C&C ever paid for a room. Time for the girls to treasure hunt.
They found a juicer, new vacuum, electronics, kid's clothes, brand new music mixer, and an antique card presser/holder.

Candy: Who knows. If we play our cards right we might get a winning hand.
Antique card press holder which kept cards straight (cards bent during a shuffle). Contraption also held poker chips. Valued at $600.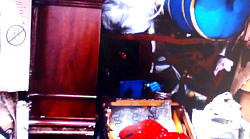 2nd Room
Low-end furniture, a/c unit, and miscellaneous items stacked to the ceiling.
Uh, Chris bid against himself three times. Note to auction hunters: PAY ATTENTION! It's your job to know who has the last bid and if you are in the mix. Auctioneer will take your bids, even against yourself.
Big Steve SLAMMED the wall again. This time,  John Luke had enough. The Sasquatch (as Mike called him) then asked if they were in church. John Luke shouted at Big Steve to be quiet. That did it.
Chris won at $600. First item they took out of the storage unit was a stair stepper

which Chris managed to break. Way to go, Chris. What else did they find? A small lock box that Tad tried to cut open with a meat cleaver. Way to go, Tad.
What needed appraisal was a water sample kit inside a tool box. It's a tube that you drop into a lake, river, ocean that collects water samples for analysis. Valued at $300.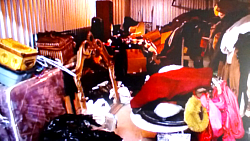 3rd Room
Clothes, mattress, mirror, and 'stuff.' Bids rose pretty quickly and though Mike placed a $2K cap on himself; but he allowed his addiction to get the best of him. Mike won at $3,200.
Mike: I just can't help myself.

He had a lot to make up for so Mike quickly dug into the mess. He found a CD changer with surround sound, marble-top table, hat box with fur hats, painting with a $995 price tag, large drop leaf table, and a couple of acoustic bowls. Appraiser stated bowls were used in 1800s for acoustic experiments. Valued at $1,000.
Some of the players played royally and others behaved like court Jester Idiots.
Profit Scorecard:
Chris Morelli and Tad Eaton: $780
Mike Braiotta: $265
Candy Olsen and Courtney Wagner: LOSS-$929
JoeP: $0
Big Steve: $0
Who do you think had the best find of the day?
Please leave your insightful thoughts in the comment box below.