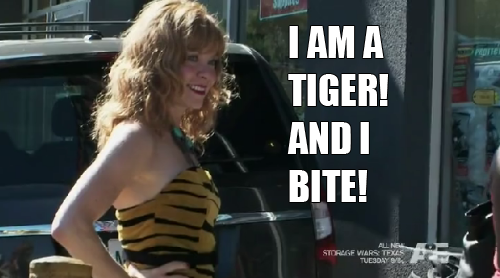 Storage Wars: New York: Season 2, Episode 15: "East River Gold."
John Luke could not keep his eyes off the scenery long enough to find the auction.
Eyes on the road!
Buyers had similar strategies for the day's auctions. Both Mike and Joe P looked for high end merchandise.  Chris and Tad looked buy everything in sight (they're bound to find something that way right?). Candy and Courtney looked to score on their home turf.
BUT (you knew there was a but) a new player added to the mix to shake things up.
Giant in a salmon shirt, otherwise known as Big Steve, had tempers flare before the auction began (save energy for the bid wars). However, Candy's animal inspired ensemble meant the claws were out. The gals poised to fight for their own.
Chris: You know what, she looks like Wilma squeezed in Pebble's dress.
1st Room
Candy's on the prowl. Ready to bite anyone who got in her way. Guys engrossed in a fight all on their own. Steve shouted in the packed storage facility. Good way to rattled everyone's nerves. Auction frenzied. Steve's strategy clearly to outbid everybody. He did so, but overpaid at $900. Price left Courtney aghast.
Steve found several nice furniture pieces. Real find was a metal detector.
At appraisal, Steve dug for gold underwater then triumphantly jumped into the waves as he learned the metal detector was worth $800. Money makes money, right Steve?
2nd Room
Talk about the room from Hell. Storage unit packed to the brim with garbage bags. Mike wanted no part in that mess. Candy on the other hand found a few items of interest. She wanted this locker.
Courtney: I think that dress is cutting off the oxygen to Candy's brain.
Once again Steve rubbed Chris and Tad the wrong way when he tried to cut in line to view the room. The duo agreed to bid him up then stick the nightmare room on the Giant. That didn't go exactly as planned. Chris accidentally won at $550. John Luke couldn't believe it. Tad beyond pissed off.
Chris: You know you could take s*** back here and nobody would even notice.
Luckily the guys found an Italian steamer in fairly decent condition. Appraised at $1,200. They made back their money and then some. Way to go guys!
3rd Room 
More yelling! Is this an auction or family therapy gone wrong?
Mike: I don't know what the Hell's wrong with these guys today, but I like it. 
Once more Candy and Courtney interested, but the price quickly skyrocketed. Joe P bought a nondescript room save for a dresser in the back that caught his eye. He found a unique item – a nautical style liquor dispenser. Very cool, but not very expensive. An expert appraised it for a mere $100.
Candy's tiger dress left her without a bite of the action.
Profit Totals:
Big Steve: $740
Chris Morelli & Tad Eaton: $680
Joe P: LOSS -$700
Candy Olsen & Courtney Wagner: $0
Mike Braiotta: $0
What did you think of the new player, Big Steve?
Please leave your insightful opinions in the box below.