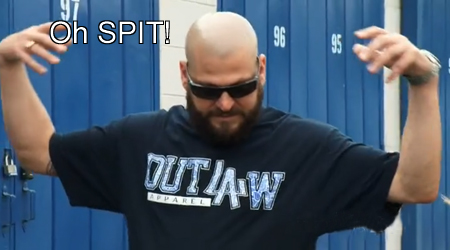 Storage Wars: Season 5, Episode 7: "LBC U LTR."
Jarrod finally decided to close his Long Beach store. He held a meeting with Brandi along with the staff. Some would keep their jobs. Others, well… not. Brandi stated that Jarrod held on to the store for a long as he could. Meeting adjourned. Employees took items out of the shelves to stock the Orange County store.
The beautiful graffiti wall was painted over in white. Closed sign placed on the door. It's over. Sad day for Jarrod and Brandi.
Rene decided he was tired of dirty units. He was only bidding on clean lockers. Is there such a thing? Ivy frustrated at calls from home. Darrell wore a t-shirt advertising his new website. Advertisement always stated "Open 24/7. Brandi wondered what exactly was open 24/7.
Jarrod: He's just saying his pants never close.
Fan, computer, wires, DVD player, towel, and boxes. Ivy wanted this locker because it was small and he could get home quickly. No one else showed much interest. Because it was junk! He won it for $150.
Ivy: At this rate, I'll be sitting at the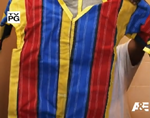 dinner table before the stove even gets turned on.
Ivy found a bike rack, bike parts, action figure, motorcycle coveralls, bowling ball, and jewelry.
He also discovered Velcro suits used for a game to where the player jumps onto a Velcro wall. Ivy took suits to Stacy at the fun company. She appraised the items at $700.
Ivy test-drove a suit and thew his body onto the Velcro wall. That might have caused a small earthquake somewhere. One problem. He could not get off the wall. Where did Stacy go?
Picture frames, speaker box, tires, boxes, and a disgusting mattress. Bed bugs a definite no-go-no-bid for many. Rene however was not deterred and won for $725.
Rene found several Kiss Band dolls in their original boxes. Tons of action figures. He also found a Chucky doll and a Chucky's bride doll. Rene was excited but Casey just found the dolls creepy.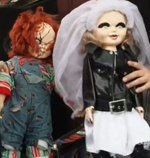 Couple took the Chucky dolls to an expert. Rene held the Chucky doll and said:
Rene: Don't kill me. I'm evil too. We are friends.
Oh, Rene. You need help on your jokes.
Rene with fingers crossed anticipated they were studio props. Expert found a manufacture's tag. Dolls made after the film. As a pair, the dolls valued between $125-$150.
Laura Dotson let it slip to Rene that Jarrod's Long Beach store had closed. Was that a smirk, Rene? Not cool. Dan Dotson took Laura aside and stated that was a secret. Oops. Too late. Rene without consideration approached Jarrod and asked him if he closed his store. Jarrod was not yet ready to reveal the truth.
This was not a classy move for Rene. At least Darrell knew to stay out of Jarrod's business.
Action toys, stroller, safe, and lots of bags. Jarrod wanted the safe for the unit, but Brandi did not see value in the mess of a locker. Darrell won at $225.
Jarrod and Brandi left empty-handed. He did feel relieve that the cat was out of the bag on the closing of the Long Beach. Time for them to go home.
Time for Darrell and Brandon to dig through their locker. Father and son team found a scooter, bags full of shoes, roller skates, and a lamp. The safe had no treasure, though.
Darrell: This locker is making me all itchy and bitchy.
Darrell retrieved a big black case. He opened the top lid. Air brushing equipment which "The Gambler" thought it was for tattoos. Brandon thought it was for something else.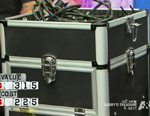 They took the case to Diana, a European body art expert.
Diana told them it was professional body art kit, top-of-the-line brand. Valued at $800. She tested the kit on Brandon. Sprayed his eyebrows and gave him a uni-brow. Fun-ny!
Profit Scorecard:
Rene Nezhoda & Casey Nezhoda: $4,400
Ivy Calvin: $1,150
Darrell Sheets: $890
Jarrod Schulz & Brandi Passante: $0
How did you feel about Jarrod and Brand closing their store?
Please leave your insightful opinions in the comment box below.