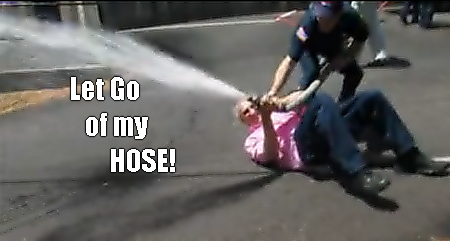 Storage Wars: New York: Season 2, Episode 12: "Breaking the Bank."
Candy's and Courtney's plan to buy quantity and quality. High five, gals! Joe P's plan was to bet heavy and clean the table. High five, Joe! Mike's plan to flip and flow. High five, Mike. Tad wanted Chris to 'visualize' the room. Chris wasn't into visualizing. No high fives for you two.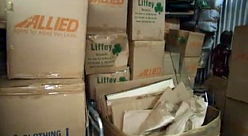 1st Room
Quality furniture, and boxes packed to the ceiling. Jaw-dropper. Starting bid at $500! Crazy! Who had deep pockets to win this storage unit? Joe P at $2,200.

First box contained beautiful Oriental lamps. If this was a sign of things to come, yeah, he struck gold indeed. Italian made dishes, hand-made rug, fireplace set, Asian style bedroom set, set of four upholstered chairs, and on and on.
Joe P found four vintage fire hose nozzles. He went to Jersey Firemans Museum to have them appraised. Value at $200. Joe P did test one of his nozzles (that sounds so wrong) and uh, well, that didn't go over too well.
Joe P: First your hair goes gray; then you lose control of your hose.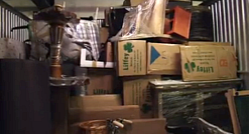 2nd Room
Vintage bike, quality furniture, and boxes packed to the ceiling. Tad salivated at all the goodies for the shop. C&C stated that room had their name written all over it. Joe P, he already scored. Mike, too much furniture to move. Not interested yet he the placed the first bid at $1,000!
Mike: Just because I don't want it, doesn't mean I won't hustle these guys.
Tad determined to win bought the room for $2,200 (now you know how much to bring if you buy in Harlem). Chris was happy – 'Woo hoo!' The vintage bike made in England. Ostrich skinned (you read that right) end table, China cabinet, dresser, expensive porcelain, antique Tiffany desk set, hand-woven rug, marble top furniture piece, and more 'cha-ching' with each piece.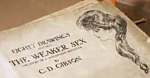 They found two books by Charles Dana Gibson. One had drawings of the 'Gibson Girls.' They were considered the supermodels of the early 20th century.
Chris and Tad took the books and a piece of artwork to the American Illustrators Gallery. Books were distributed by Life Magazine in the 1900s. Poor condition so valued only at $500. The drawing was an original Gibson (but not of the Gibson Girl) and valued at $7,500.
Chris, that's a WOO-HOO moment!
3rd Room
Dresser, drop-leaf table, sofa, fold-up chairs, and boxes packed again to the max. Candy and Courtney snatched the room at $1,800. You definitely need a bank roll to roll a room in Harlem.
Gals found one box of broken ceramics. Aw! No worries, they still had furniture-palooza! C&C also found a safe. But how do gals crack open a large safe? Well, they call a friend with a forklift…
BOOM!
Huge drop destroyed the bottom of the safe. Okay, I've never seen a safe cracked that way before, but that was cool. About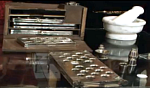 $2K worth of jewelry inside the safe. SCORE! Did they find anything unusual? Yep. Vintage pill maker tools in a wooden box.
Candy and Courtney took their box to City Reliquary Museum. Dated around 1880-1910. Extremely rare in its configuration. Estimated value at $1,500.
Profit Scorecard:
Chris Morelli & Tad Eaton: $16,700
Joe P: $15,050
Candy Olsen & Courtney Wagner: $5,658
Mike Braiotta: $0
Did you enjoy Joe P's mishap with the fire hose?
Please leave your interesting opinions on this episode in the comment box below.